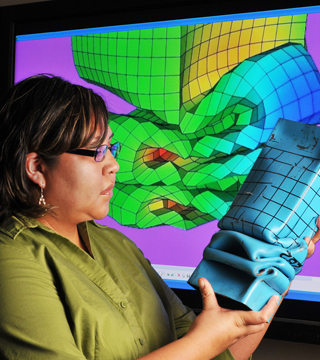 Sandia moved from No. 18 to No. 4 on Woman Engineer magazine's 22nd annual list of Top 20 Government Employers.
The list appears in the magazine's spring 2013 issue. About 400 readers of Woman Engineer selected the US companies they would most like to work for or that they believe would provide a positive working environment for female engineers. The annual reader survey is mailed to randomly selected readers of the magazine.
The survey includes questions about age, gender, geographic location, resources for learning about job openings, annual salary, career discipline, and others. "We ask readers to list their top three companies or government agencies," says Tamara Flaum-Dreyfuss, president and publisher of Equal Opportunity Publications Inc. "From that list, we weigh the answers based on their listing of first, second, and third choice."
The top five finishers were NASA, US Department of Transportation, FBI, Sandia, and DOE. Last year Sandia was ranked 18 out of 20.
Pamela Hansen Hargan, VP of Human Resources and Communication Div. 3000, says the ranking reflects positively on Sandia. "It is an honor to be considered a top employer by the readers of Woman Engineer," she says. "This type of branding is critical to attracting top talent such as the subscribers of this magazine."
Recognition a powerful recruiting tool
Sheri Kennard (3555), who heads up student intern programs at the Labs, says the recognition is a powerful recruiting tool. "It shows we have a lot of diversity and a lot of opportunities at Sandia," she says. "It acknowledges that this is a great place to work."
Esther Hernandez (3010), Sandia's chief diversity officer, says there is a consistent effort throughout the Labs to build a work environment where all individuals know they are important because they are valued, included, treated with respect and dignity, and are fully productive contributors to mission success.
"Sandia is an exceptional place to work," she says. "I am delighted that we are viewed as an employer of choice by the readers of Woman Engineer."
The magazine was launched in 1979 and is the country's most widely read recruitment publication for women engineers. It is read by more than 56,000 student, entry-level, and professional women engineers, and goes to the placement offices of all 296 accredited engineering schools, and to student and professional associations and societies.