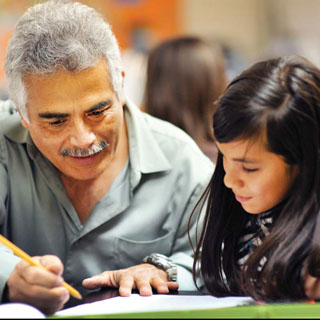 Last week, more than 140 Hispanic middle school students embarked on a four-week-long academic adventure designed to encourage students' interest in math, science, and engineering concepts. The Manos program was launched by Sandia's Hispanic Leadership Outreach Committee and Community Involvement Dept. 3652 in partnership with Albuquerque Public Schools. Manos is now in its 23rd year.
Twice a week, after school, students from several area middle schools board buses and head to Rio Grande High School for two-hour workshops. Students select one of seven workshops focused on physics, chemistry, electronics, computer design, robotics, finances, and introduction to engineering. Activities include building and flying rockets, learning
what causes fireworks to have different colors and what makes bread rise, circuitry and controlling the flow of electricity, building web pages, building and programming LEGO robots, making money "grow," and building cars and bridges.
Miquelita Carrion (10657) leads the coordination of Manos, and all of the teachers are Sandia employees who volunteer their time. The participating middle schools are Ernie Pyle, Polk, Harrison, Truman, John Adams, and Jimmy Carter.
"We really want to increase the pool of Hispanic students who pursue STEM university degrees by showing students the possibilities and highlighting the accomplishments made by Hispanic professionals," says Javier Ruiz (10657), who helps coordinate the Manos program. "One of our goals is to increase and promote academic excellence for students at the precollege level. We provide hands-on learning experiences to help inspire these young minds, and to see them succeed is very rewarding."