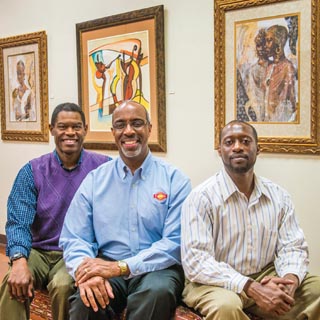 Three Sandians who share a commitment to quality and diversity are winners of 2013 Black Engineer of the Year (BEYA) awards.
J. Anthony Wingate, manager of Subsystems and Component Quality Engineering Dept. 422, was named Professional Engineer of the Year for Diversity Leadership. Dennis Owens, manager of Defense Systems Quality Engineering Dept. 424, and Carl Rhinehart (410) received Science Spectrum Trailblazer awards.
BEYA is a program of the national Career Communications Group, an advocate for corporate diversity, and part of its STEM achievement program. The awards recognize the nation's best and brightest engineers, scientists, and technology experts. Anthony, Carl, and Dennis, who all work in Sandia's weapons program, will receive their awards at the 27th BEYA conference Feb. 7-9 in Washington, D.C. The event precedes National Engineers Week.
"These gentlemen are exemplary representatives of the incredible talent we have at Sandia," says Labs' Chief Diversity Officer Esther Hernandez. "It is so inspiring to learn of Anthony, Carl, and Dennis's outstanding achievements, to gain a brief glimpse of their
personal stories, and to feel their passion about growing and preparing our Sandia workforce for tomorrow. Well done and congratulations."
J. Anthony Wingate: Music with all the keys
Anthony's early experiences as an African American in the workforce were not always positive, but they did strengthen his resolve to help minorities get better jobs.
"At one company I spoke out for student interns who wanted information about job opportunities. They wouldn't even set up a meeting," Anthony recalls. "Another time I applied for a management position, had the qualifications, and didn't even get an interview. The guy I had been training got the job.
"Letdowns like that kindled my passion for advancing not only engineering excellence but also operational and hiring excellence through equal opportunity. I envision a world in which organizations draw on workforce diversity to solve rigorous engineering challenges, and management welcomes fresh talent from an assortment of backgrounds."
Anthony later joined Sandia, where he has been a leader in the diversity effort while building a distinguished career in quality engineering and management.
Anthony grew up in Beaumont, Texas, and earned a bachelor's degree in mechanical engineering from Lamar University. He did summer engineering internships with several Texas companies before joining General Electric, first in GE's Manufacturing Management Program in Massachusetts and later in Florida, where he developed engineering systems and oversaw component and manufacturing processes.
He went to work for Martin Marietta, now Lockheed Martin, in 1992 as a specialty components senior engineer and project leader. He was nominated in 1993 for the Black Engineer of the Year Award and began seriously pursuing affirmative action.
Anthony transferred to Sandia in 1994, where he assumed responsibility for creating, releasing, and managing documentation for a variety of quality infrastructure activities. He has since worked with several organizations, from product engineering to project lead missions engineering and project management. He has been manager of Subsystems and Component Quality Engineering since 2008.
Anthony has received numerous awards and recognitions, including being named an NNSA employee of the quarter in 2012. He says he is humbled and honored by the BEYA recognition, but that his real reward comes from helping a minority job applicant start on the path to success. "If that person can someday be the next director, that's what matters to me," he says.
He attends university career fairs, recruitment events, and conferences to increase minority recruitment. He has hired several top science and engineering candidates, primarily from the North Carolina A&T State University career fair. Sixty-four percent of new hires in Anthony's organization in the past three years have been minorities.
"I continually seek opportunities to engage with young scientists and engineers from minority backgrounds," he says. "I believe this young, diverse talent will enhance the future of Sandia and of our nation. To me diversity is about taking advantage of the strengths of different cultures and individuals and backgrounds. I equate it to a piano. There are black keys and white keys. You can't make beautiful music with just the black or just the white. You need both."
Marcey Hoover, senior manager of Surety Engineering Dept. 420, says Anthony promotes a highly inclusive work culture in his organization. "Anthony is compassionate and dedicated to providing opportunities for others," she says. "He not only recruits and hires minorities and underrepresented populations, but he also retains those staff members through active mentoring and coaching, focusing on the entire lifecycle of a staff member and creating a robust environment for individuals to grow and succeed in their professional goals."
Anthony and his wife Kim have been foster parents to 32 young people in the past four years. "Fostering is an opportunity to reach out and touch more kids," he says. "Passing through this life, between sunrise and sunset, there's a dash — your lifespan. What have you done that represents that dash? We chose to be foster parents to make a difference in the life of a young person who might have had hardships.
"If we can make a difference in one or two lives, it's been worth the journey and effort. With God's continued blessings, we will continue to strive and make a difference in the lives we touch at work and outside of work along this journey."
* * *
Dennis Owens: Thinking of prevention, always
Dennis, a native of Phoenix, Ariz., was faced with a tough decision as a junior at New Mexico State University. He was a starting defensive back on an athletic scholarship and had to choose whether to pursue a dream of professional football or give up his scholarship and focus on academics.
He picked academics. "After three years and the academic sacrifices of a student athlete, I needed to put all my energy and efforts into getting my degree," he says.
Dennis earned a bachelor's degree in mechanical engineering technology and went to work in 1988 for General Electric Aircraft Engines in Albuquerque. He worked his way up to product engineer in seven years.
When the time came in 1994 to leave GE for something different, the Six Sigma and ISO 9000 movements were growing along with the concept of quality. "I was hearing more and more about the quality movement," Dennis says. "I liked the tools of it and, more importantly, I saw the value in the prevention of defects."
Over the next six years, in jobs at two startups, the semiconductor company Silmax Inc. and Honeywell Power Systems, a micro turbine assembly plant, Dennis built his expertise in quality engineering. With formal training he designed the architecture of quality management systems (QMS) for both businesses.
"I got into quality as a vocation because I liked the thinking," he says. "The startups I worked at did not have a QMS model or a way to practice engineering in a sensible manner. My job became to develop the systems to make that happen."
Dennis joined Sandia in 2001 as a quality engineer in neutron generator production. He worked on NG requalification and put together an internal quality audit program for Center 2700 (formerly 14400). He moved on to Integrated Military Systems Center 5400 as a quality engineer supporting Navy, Army, and Missile Defense Agency programs. He also led Lean Six Sigma projects to reduce and manage launch fielding activities, strategic planning, and lab space improvements.
Dennis was promoted in 2008 to manager in the Surety, Assessment Engineering, and Analysis Center 400. In 2010 he co-led the center's ISO 9001:2008 QMS project and got it registered in seven months.
"Thus far, quality has been my career at Sandia," Dennis says. "Regardless of my assignment, I've learned to approach problem-solving from a prevention mindset and it's now just the way I think."
Dennis says his goal is to take what he's learned and give it to people who want to understand quality assurance in the research and development environment. "I'm now getting the opportunity to share that message with organizations such as NASA, Johns Hopkins University Applied Physics Laboratory, and American Society for Quality, and that's exciting," he says.
Dennis says he was surprised about the BEYA award and very appreciative. "It's great that someone took the time to recognize what others do," he says.
Vanessa Miles (427), who nominated Dennis, says she has worked with him since last fall and been impressed by the quality system and training he put in place. "It was a lot of work," she says. "Dennis is very much a trailblazer and very deserving of this award."
Dennis may have given up football for engineering, but he still hits the gridiron as a coach for his kids' teams. In his spare time he likes to fish, golf, travel, and serve with his wife as small-group bible study leaders for their church.
But quality is never far from his mind. "I would like my legacy to be that Sandia is known as much for its technical approach to quality as for its engineering excellence," he says.
* * *
Carl Rhinehart: A pipeline of opportunity
Carl took to leadership at a young age. He spent middle school summers working in the Mayor's Teens Volunteer program in his hometown of Rock Hill, S.C. He volunteered in the parks leading younger kids through arts and crafts and physical activities. And he helped the American Red Cross put together aid packages for families in need.
Carl became the first member of his family to attend college. He earned a bachelor's degree in industrial and systems engineering from North Carolina A&T State University in 2002 and was quickly recruited into Sandia's One Year on Campus (OYOC) program. He completed a master's degree in industrial engineering as a full-time student while employed by the Labs.
Carl returned to Sandia in 2003 as a manufacturing and operations engineer in the neutron generator group, responsible for test inspection processes on the production floor. He refined processes and boosted efficiency.
While a test design engineer Carl received two NNSA Defense Programs Awards of Excellence and an Employee Recognition Award. He was promoted to Senior Member of Technical Staff in 2006. A year later he was named Product Realization Lead for a team of 10 engineers from design and production agencies.
New challenges beckoned, and Carl moved to the System and Software Quality Engineering groups, taking on a variety of quality engineering and project management roles. He went back to school in 2010 to earn a master's in business administration from New Mexico State University while working full time. He was promoted to Principal Member of Technical Staff in 2012.
Carl currently is technical deputy of the Independent Surety Assessment Group where he is technical lead and project manager for several programs, including Independent Surety and Independent Nuclear Weapon Assessment. He helps with planning and managing technical activities for five departments and 45 staff members.
"This job gives me a broad view of the nuclear weapons complex," he says. "It's been very fulfilling."
Mentorship and minority recruitment are integral to Carl's life. He mentors numerous staff members on quality engineering. In 2010 he began working through Sandia's Black Leadership Committee as a recruiter of minority science and engineering job candidates. He focuses particularly on his alma mater, North Carolina A&T, and has brought three undergraduates into the Master's Fellowship Program, formally OYOC, where he got his start.
"My objective is to open the pipeline," Carl says. "It feels like I'm giving back and spreading the word about opportunities at Sandia. I want other minorities to have the opportunity I had."
Carl promotes science, technology, and engineering with Albuquerque middle and high school students through the Hands on Minds on Technologies program. He also coaches youth football and basketball. "I want to encourage and inspire young people," he says.
Carl says he is honored to be chosen for a BEYA award. "This is a national recognition," he says. "It feels great."
Marcey Hoover, senior manager of Surety Engineering Dept. 420, nominated Carl and says he has distinguished himself as a technical contributor, leader, and mentor. "He is deeply committed to the mission of
Sandia National Laboratories, dedicated to addressing the most pressing national security challenges, and passionate in his support of minorities seeking science and technology careers," she says.