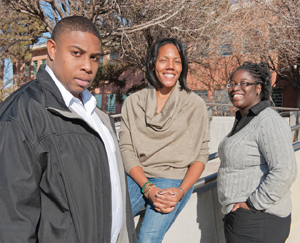 Patrice Gregory was born in 1980, 12 years after the assassination of Dr. Martin Luther King Jr. Last year, she earned a doctorate in mechanical engineering from the University Maryland and was hired at Sandia.
The Pine Bluff, Ark., native says that throughout her career journey, she felt King at her side. "His impact on my life is too enormous to verbalize," Patrice (422) says. "I know every day that he is why I'm here right now."
King is an iconic figure in the African-American civil rights movement. He was a clergyman, activist, and leader who used nonviolent methods to bring about social change. He led the 1955 Montgomery Bus Boycott and helped found the Southern Christian Leadership Conference. He led the 1963 March on Washington, where he delivered his legendary I Have a Dream speech envisioning a color-blind society. He received the Nobel Peace Prize for his efforts to end racial segregation and racial discrimination. He fought poverty and promoted education. King was shot and killed by James Earl Ray on April 4, 1968, in Memphis, Tenn. He was 39.
The federal Martin Luther King Jr. Day holiday was signed into law in 1983. It is celebrated yearly on the third Monday of January to mark King's Jan. 15 birthday. While some states at first resisted acknowledging the holiday, it was officially observed in all 50 states for the first time in 2000.
'Can't imagine what life would have been like'
Patrice's family went to the newly opened Martin Luther King Jr. Memorial in Washington, D.C., at Thanksgiving. "It was kind of surreal," she says. "My grandmother who just turned 90 was there, and so was my youngest cousin who's 17. Everyone understood what Dr. King meant. Age isn't a factor in the impact he had on your life. I can't imagine what my life would have been like had he not sacrificed."
Patrice's sentiments are shared by other young Sandians born after King's passing.
Sean Harris (9533), a graduate of La Cueva High School and the University of New Mexico, has worked as a Sandia software engineer for seven-and-a-half years. Harris, 29, received two Martin Luther King Jr. scholarships at UNM and went on to earn a master's degree in management information systems from the University of Illinois. He was a member of the same fraternity as King, Alpha Phi Alpha Fraternity Inc., and went to Washington, D.C., in August for the opening of the King memorial.
"I've done a lot of research on Dr. King," Sean says. "He was so involved in education and making sure African-Americans had opportunities to get an education. Even though he's not still around, his dream is being moved forward by giving people those opportunities."
Sean says he connected to King's message and participated in MLK marches and commemorative events. "When I think about him, I think about the sacrifices he made so that we could have the opportunities we have today," he says. "If not for him, I wouldn't be a Sandia employee, I wouldn't have graduated from La Cueva and UNM. He paved the way for the younger generation."
Lydia Coleman (10694), a financial analyst with a degree in business administration from Prairie View A&M in Texas, says the King message she holds closest is that all people are created equal. "I think about the I Have a Dream speech. We won't be judged by the color of our skin," she says. "The color of my skin doesn't define who I am. I define it."
Lydia, 23, a Kansas native, says she doesn't think of King as a figure from the past. "To me, he's not history," she says. "He's a part of how I see the world daily. I see his dream still coming to pass."
People come together and share cultures
Melvin Bennett (10626), a finance graduate of Prairie View A&M, says he feels most impacted by King's efforts to end segregation. "I was able to go to school with students of different backgrounds and befriend them because of the work he did," says Melvin, 22, a project administrator. "I was able to come to a place like Sandia and not have to worry about not getting a job because of my race."
Melvin says the holiday in his hometown of Livingston, Texas, that honors King is a multicultural festival celebrating Hispanics, African-Americans, Native Americans, and Anglos. "People come together and share cultures," he says. "I like that because it enables me to associate with people of different backgrounds, and share and learn from each other. I am able to do that now because of Dr. King's work."
Patrice, Sean, Lydia, and Melvin say they learned about King as children — in church, at school, at home — and will continue to keep King's memory alive by spreading the message of nonviolent activism against racial discrimination.
Patrice has watched the I Have a Dream speech many times. "It makes you wonder when his dream will really come true, when all men are equal," she says. "It's a lot better now. But there is still work to be done."