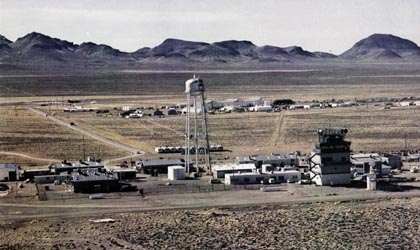 To paraphrase Mark Twain, reports of the demise of Sandia's Tonopah Test Range have been greatly exaggerated. Given the recurring discussions over the years about retiring the range, it's understandable that some Sandians might think the TTR has entered the history books as part of Sandia's storied past. But that isn't the case. It's still very much a going concern.
Nevada site has supported weapons flight testing for more than 50 years
Ajoy Moonka, senior manager of the Stockpile Support and Test Group (2910), wants to get out a simple message: Tonopah Test Range is open for business. It's serving the nation's nuclear weapons mission and, through work for others agreements, conducts tests for customers in a number of federal agencies, including Man Portable Air Defense System (ManPADS) tests that help protect American forces in war zones.
Tonopah Test Range, established in 1957, occupies 280 square miles tucked in the northwest corner of the 4,687-square-mile Nellis Air Force Range. Currently, 113 personnel are assigned to TTR, including 22 Sandia employees, with the remainder being contractors who provide site support (security, maintenance and operations, medical, fire, rescue, and hazmat response). The nearest town is Tonopah, Nev., which is more than 30 miles from the TTR operations center.
'Neglected cousin'
Understandably, Ajoy notes, personnel at TTR sometimes feel like "a neglected cousin," a sentiment that probably isn't helped any by the fact that the range has been on the proposed chopping block many times over the past couple of decades. But a pervasive uncertainty about the TTR's status hasn't deterred staff at the range from keeping their eye on the ball, Ajoy says.
"They are very dedicated to the mission and make the best of rather old equipment, facilities, and infrastructure that exists due to lack of investment for over a decade," he says. One example of the TTR team's focus and dedication is that the range, working in partnership with Center 4100, completed self assessments, followed by an Independent Verification Review, and received authorization to restart JTA operations with an extensive 90-day effort after operations were stood down following the October 2008 sled track accident. (In the wake of that accident, all Sandia organizations involved with energetic materials work were required to go through a complex and rigorous restart process to ensure operations were being done safely and in accordance with Labs policies and procedures.)
After an extended period of uncertainty about its future, it appears that TTR may be in for a time of relative stability.
Record of Decision affirms support
In December 2008, NNSA issued a Record of Decision (ROD) affirming support for the test range as part of the complex transformation effort. The ROD calls for a continuation of the flight test activities at TTR, revitalization of some facilities and infrastructure, and possible changes to the footprint and operating model. Additionally, the Obama administration's FY11 congressional budget request — that is, the budget the president submits to Congress — has language specifically addressing TTR. It reads, "Funding in FY2011 also supports the Tonopah Test Range (TTR) in Nevada, providing unique capabilities to air drop nuclear bomb test units. These capabilities allow TTR to support DSW's [Directed Stockpile Work] ability to perform surveillance testing on nuclear bombs and their compatibility with US Air Force bombers and fighters . . . ."
Over the years, Ajoy notes, NNSA and DOE have conducted numerous studies — Ajoy has a PowerPoint chart that lists no less than 12 such studies since 1992 — to determine the feasibility of closing the range. Those studies, Ajoy says, come to strikingly similar conclusions time after time. Among recurring findings: The flight test mission at TTR in support of stockpile surveillance is a vital one, and one that is not likely to go away; TTR infrastructure is old and should be upgraded; the nuclear weapons flight testing mission could be transferred to DoD and performed elsewhere, but for a number of reasons, the programmatic risks (mission priority) and costs to make the transition far outweigh the benefits.
Good news for TTR – and the Labs
Given the consistency of study results over an extended period of time, the 2008 December NNSA ROD concluded authoritatively that flight testing will remain at TTR.
That's good news for the Labs as work on the B61 Life Extension Program ramps up. The B61 project, if it progresses as planned, will rank among the biggest weapon-related efforts at Sandia in 20 years. That program will likely require a number of developmental flight tests. With the NNSA ROD, there is now no question about where those tests will be conducted. In speaking about the advantages of keeping the TTR open, Ajoy cites the "wonderful relationship" with the US Air Force at the Nellis Test and Training Range, adding that a new TTR business model may involve Sandia procuring some support services from the USAF when it's mutually advantageous.
The TTR of the future won't look exactly like the TTR of the past, Ajoy says. How could it, when during the height of the Cold War, the range conducted approximately 300 development and surveillance flight tests each year and had five departments with a senior (group) manager.
Rather, the TTR of 2010 and beyond, which currently conducts 12 to 15 surveillance flight tests and two WFO test series of four to six weeks' duration, will operate in a new business/operating model. A number of options are being explored, including operating in a "campaign mode," with a core of Sandians assigned full time to keep the range operational, supported by a cadre of others — Sandia employees and contractors — who staff the site during test weeks.