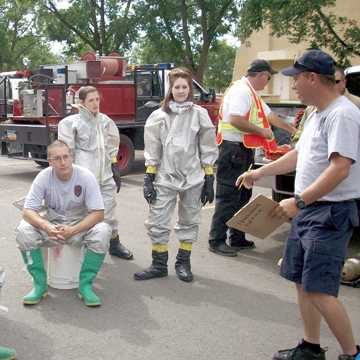 Being a leader involves more than just giving orders. It requires confidence, character, and critical thinking skills. These qualities can be challenging enough for adults, but on June 14-19, students and teachers from five high schools in California, Colorado, and New Mexico gathered to try their hand at leadership during the third annual High School Homeland Security Workshop at the New Mexico Military Institute (NMMI) in Roswell. By all accounts, they were extraordinarily successful.
The workshop focused on developing leadership and critical thinking skills using homeland security and national security as content elements, according to
program manager John Taylor (303). It followed an in-school activity previously taught at the different high schools with students attending the workshop.
During the course of the week, John says, the students participated in several exercises: a high-level ropes course, a leadership reaction course that required them to surmount obstacles and solve physical problems as a team, and several tabletop exercises designed to hone complex thinking and teamwork skills. These exercises included a disaster recovery exercise, an international relations exercise, and a real-world disaster response exercise involving a simulated chlorine gas release.
Tim Shepodd (8223) accompanied 14 California-based students to the workshop and taught two exercises on resource management and negotiation. He says the workshop "brought the students together in a series of physical and intellectual exercises that challenged the students with various 'wicked' problems — complex problems with multiple answers and no clear 'right' answer."
The challenging exercises tested students physically as well as mentally. According to Tim, the results were impressive. "I saw the students really blossom," he says. "Even the quietest kids participated. They learned their natural skills and weaknesses and how to use them. They learned the advantages and disadvantages of different leadership styles."
Anita Romero (3651), Sandia's Emergency Public Information program manager, and Stephanie Holinka (also 3651) led an activity about interacting with the media while disseminating emergency public information.
After learning about the purposes and methods of releasing information during an emergency, students had the chance to play the role of a spokesperson in an exercise in which they got "grilled" by "reporters."
"I think the kids have learned a great deal about how to represent an agency and how to speak with media, as well as how to conduct press conferences," says Anita.
Denise Dixson, a teacher at Southwest Secondary Learning Center, a technology-based charter school in Albuquerque, brought 10 middle school and high school students to this year's workshop. "It was an invaluable experience for all the students involved," she says. "They learn and practice leadership and critical thinking skills that have real-world applications."
Dixson says students need not be pursuing a career in homeland security to apply the knowledge they gained from the workshop. "I absolutely think this workshop is valuable to all students regardless of future plans," she says. "It fosters skills that are useful in all areas of life."
But perhaps the most telling feedback on the workshop's success comes from the students themselves. Mariah Rhutasel, an upcoming senior at Southwest Secondary Learning Center, praises the workshop as an invaluable opportunity to learn about leadership, communication, and job experience, among other topics.
"I think this is an awesome camp that should be better advertised because of how impactful it was on me in just a short amount of time," she says.