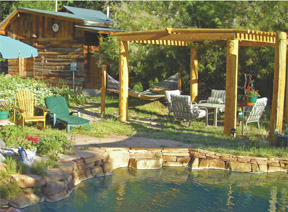 Saving 60 percent on monthly utility bills is no laughing matter for Giggling Springs, a natural hot springs pool in Jemez Springs.
That savings is part of the outcome of a New Mexico Small Business Assistance (NMSBA) Program project conducted by Rich Jepsen (1534), a specialist in fluid and thermodynamics.
Rich was contacted by Tanya Struble, co-owner of Giggling Springs, after hearing about the NMSBA program from members of a spa association. The association had met to discuss cost-savings opportunities, plumbing challenges, environment department standards, and new technologies.
Since Giggling Springs' water is rich in soluble minerals, heating buildings at the spa using conventional plumbing hardware had been troublesome. Mineral deposits can build up in plumbing, leading to high maintenance costs.
After discussing the project with owners, Rich proposed a heating exchange system that transferred heat without transferring spring water. He measured flow rates and temperatures from the hot spring to strike a balance between heating the outdoor pool and providing heat to cabins at the spa.
While Giggling Springs' geothermal water maintains a temperature of 130 degrees, most existing heat exchange systems operate efficiently at much higher water temperatures, typically above 180 degrees. An additional difficulty was being able to capture enough heat for both the therapeutic pool and the cabins.
The new heating system allowed Giggling Springs to use its 130-degree water to heat both the outdoor pool and the buildings on the site.
"This project was a great example of using Sandia expertise to help a New Mexico small business design a system that is not 'off-the-shelf,'" says Rich.
Struble says the project cost about $18,000, a sum she expects to see recovered in five to six years.
Check out Rich's work by visiting Giggling Springs in Jemez Springs and check out www.GigglingSprings.com. For more information on Jemez Springs, see www.JemezSprings.org.
Sandia assists 224 small businesses in 2008
Sandia assisted 224 small businesses in 2008 with projects ranging from helping an environmental company to assisting Nambe Pueblo create a water model.
This was Sandia's eighth year of helping small businesses through the New Mexico Small Business Assistance program, thanks to a tax credit act passed by the New Mexico Legislature.
The program allows Sandia to receive a credit against the gross receipts taxes it pays each year in exchange for providing technical advice and assistance to New Mexico small businesses. During 2008, Sandia submitted nearly $2.4 million in tax credits.
There are few requirements for small-business participation — mainly that assisted companies must be for-profit New Mexico small businesses, and that the help is otherwise not available for a reasonable cost through private sources.
In addition to highlighting its Giggling Springs project at a recent event at the Albuquerque Aquarium, Sandia also featured the Rio Nambe Leverage Project and the Four Corners Leverage Project.
Rio Nambe Leverage Project
Mirabal Farms with Povi Ovei Farms, Rose Trujillo, Gloria Trujillo
As the governor of Nambe Pueblo and a farmer, Ed Mirabal understands the water management challenges that farmers face, including controlling costs and using their water share without wasting or under-using natural resources. Pueblo farmers approached NMSBA seeking a method that would calculate the amount of water farms divert from surface sources to support crops. Jim Brainard (6311) worked with the pueblo to calculate water usage rates and develop a model for a system-wide water management. The new model includes all agricultural, residential, and commercial uses and calculates the amount of water used and the amount returned to the ground.
Four Corners Leverage Project
Biosphere Environmental Science and Technologies with McDonald Enterprises, Inc., Hands on Safety Service, Intermountain Painting
Biosphere Environmental Science and Technologies (B.E.S.T.) operates several projects related to water supply and water use systems. While designing a reverse osmosis system to desalinate water produced from oil and gas production operations, B.E.S.T. found that chemicals and minerals in water from a natural gas well could reduce the effectiveness of the filtration membranes in the reverse osmosis system. The company needed a pretreatment system to increase the life of these membranes. Sandia employees Allan Sattler (6312) and Malynda Cappelle (6721) teamed with B.E.S.T and other companies to test the performance of a new pretreatment and reverse osmosis system for untreated produced water.