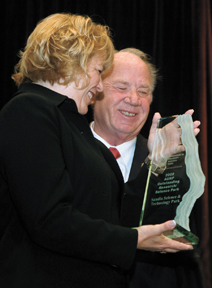 The Sandia Science & Technology Park has received the 13th annual Outstanding Research/Science Park Achievement Award given by the national Association of University Research Parks (AURP).
The award recognizes research parks that excel in bringing technology from the laboratory to economically viable business activities, promoting the growth of businesses, jobs, and public revenue.
"The successful park has been a role model for other parks in New Mexico and other national laboratory parks," reads the AURP award entry on its website.
"We are extremely honored to be the first national or federal laboratory research park to be recognized," says Jackie Kerby Moore, SS&TP executive director. "The recognition highlights the incredible public and private partnership that has contributed to the park's results and success."
Previous winners include the University City Science Center, Philadelphia; the University of Arizona Science & Technology Park; the Research Triangle Foundation of North Carolina; and the Purdue Research Park, Ind.
In addition, the AURP named Sherman McCorkle, chairman of the Science & Technology Park Development Corp., as recipient of the association's Community Leadership Award. The award is given to individuals who deliver outstanding contributions to the success and total community impact of a science park.
The awards were presented at the Association of University Research Parks' recent annual conference in St. Petersburg, Fla.
The vision for the campus-like park began in the mid- 1990s when Dan Hartley, then vice president of development at Sandia, began discussing the idea of a tech park with various officials. Public landowners — including representatives from Albuquerque Public Schools, the State Land Office, and DOE — as well as private landowners then got together to discuss developing the property to bring start-up companies and Sandia industry partners to the area.
The park comprises 18 buildings totaling nearly 900,000 square feet of occupied space. More than 2,000 employees are employed at the 28 organizations located at the park.
Since its inception, the SS&TP has had a $1.4 billion cumulative impact on New Mexico wage and salary disbursements attributable to park activities, according to an economic impact assessment conducted by the Mid-Region Council of Governments.
Park gets two new tenants
Moog Inc. and AEgis Technologies are the latest additions to the Sandia Science & Technology Park, says Jackie Kerby Moore, SS&TP executive director.
Moog has moved into 2,600 square feet of space in the Sandia Synergy Center adjacent to CSA Engineering, which Moog recently acquired as a wholly owned subsidiary. Moog is a worldwide designer, manufacturer, and integrator of precision control components and systems. Moog's high-performance systems control military and commercial aircraft, satellites, space vehicles, launch vehicles, missiles, automated industrial machinery, marine applications, and medical equipment. Moog will work closely with CSA in the development of electronics to support vibration suppression systems. Moog currently employs eight people locally with plans to expand operations in the park in 2009.
AEgis Technologies, one of the world's leading providers of modeling and simulation products and services, recently moved its Microsystems Group into 1,700 square feet of space located at 10501 Research Rd. SE, where it established the AEgis Laser Laboratory. The Microsystems Group is a multidisciplinary team of scientists, engineers, and technical staff colocated in Huntsville, Ala., the Redstone Arsenal, and Albuquerque. The group specializes in microsensors, photonics, electro-optics, and directed-energy sensors. "We are pleased to welcome Moog and AEgis to the park," says Jackie. "These additions are yet another indication of the economic impact the park has on the community."