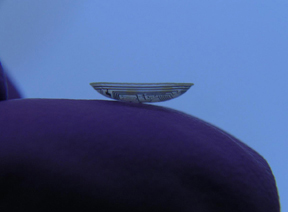 A surgeon is in the middle of a complicated procedure and doesn't want to take his eyes away from his patient. He doesn't have to — thanks to a bionic contact lens that displays the patient's vitals in his field of vision.
Or, imagine a driver who doesn't need to look away from the road to see critical information because it's projected onto his windshield. Another scenario is a diabetic who sees an LED flash in the corner of his eye when his glucose levels begin to drop.
That might sound like the stuff of science fiction, but not to Harvey Ho, who was hired in September to the Surety Design Engineering
Dept. 8226 at Sandia/California. Last year Harvey completed his MS in electrical engineering at the University of Washington (UW) under Babak Parviz, an assistant professor of electrical engineering.
For his master's thesis, Harvey designed the circuitry that would go around display elements, such as LEDs for what is being referred to as the "bionic contact lens." He presented the results at the Institute of Electrical and Electronics Engineers' international conference on microelectromechanical systems last month.
Building the contact lenses posed a technical challenge because materials that are safe for use in the body, such as the flexible organic materials used in contact lenses, are delicate. Manufacturing electrical circuits, however, involves inorganic materials, scorching temperatures, and toxic chemicals.
Harvey and other researchers built the circuits from layers of metal only a few nanometers thick, about one-thousandth the width of a human hair, and constructed light-emitting diodes one-third of a millimeter across. They then sprinkled the grayish powder of electrical components onto a sheet of flexible plastic. The shape of each tiny component dictates which piece it can attach to, a microfabrication technique known as self-assembly. Capillary forces — like those that that make water move up a plant's roots and that cause the edge of a glass of water to curve upward — pull the pieces into position.
Harvey began working with Parviz as an undergraduate at UW. Math and science interested him from a young age.
"I grew up surrounded by technology, always very interested in how things work," he says. "In high school I had some great physics and math teachers who put me on the scientific track."
The project, now in prototype stage, recently garnered media attention from the likes of National Geographic News, The Economist, CNBC columnist Bryn Nelson, Science Daily, CNET, Seattle Post-Intelligencer, EEtimes, Fox News, and technology bloggers worldwide.
At just 24 years old, Harvey has attained the type of high-profile accomplishment many researchers dream about. "I did feel I was working in something cutting edge, something that kept me going when I worked in the lab late into the night," he says. "I feel like I have contributed something meaningful to the field of electrical engineering."
Parviz describes Harvey as a solid engineer who can make things happen.
"He is completely self-motivated and always ready to explore new things," Parviz says. "Harvey is an asset to any company or organization that is fortunate enough to have him onboard."
Coming to Sandia represents the next step in his career. He was attracted by the variety of research and top-notch facilities such as MESA. "It's not quite academia, but not quite industry," he says. "You can draw upon a lot of different people from many different disciplines."