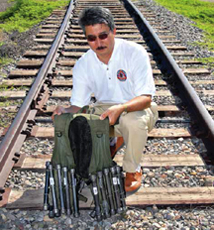 Several Sandians worked alongside transit officials at a security checkpoint in a New Jersey commuter train station recently as part of a program to improve rail security.
The Department of Homeland Security (DHS) program, funded by
Congress shortly after the 2004 commuter train bombings in Madrid, Spain, is intended to identify security approaches that may help prevent attacks on US rail transit systems.
The two-week field demonstration in July, which tested five new detection systems provided by vendors, took place at the Port Authority of New York and New Jersey Exchange Place Station in Jersey City. The trials involved checking rail passengers for explosive objects hidden underneath clothing as they passed through a checkpoint.
Its focus was on large threats such as explosive vests and package bombs, says project leader Jim Phelan of Contraband Detection Dept. 6418. Two other Sandians, Eric Varley (6418) and Andrew Vaughn (8134), served as technology experts during the trials and worked alongside Transportation Security Administration screeners.
"Security systems for passenger rail are challenged by open station design, ease and speed of entry, and low-cost features that make mass transit popular," Jim says.
Five systems tested
The five demonstrated systems employ various standoff imaging techniques — including millimeter wave, infrared thermography, and terahertz imaging technologies — to detect large threat objects as commuters pass walkthrough checkpoints. A few of the systems included automatic threat recognition.
The field demonstrations in Jersey City followed a round of laboratory evaluations at Sandia of the five systems. For the lab tests Sandians built mock bombs, including explosive vests and belts, to understand system performance against a range of threats. They also tested the systems for false alarm rates, passing through the mock checkpoints with concealed cell phones, PDAs, and other commonly carried objects.
"It's been a whirlwind," says Jim of the activity leading up to the field tests.
The July trials in New Jersey were the third in a series of field exercises that are part of the overall DHS program.
The first, in June at a MARTA station in Atlanta, Ga., evaluated dogs specially trained to sniff out explosive vapors coming off passengers moving through crowds. The dogs were trained via an Auburn University "vapor wake canine" process. Andy Vaughn led the canine field tests and evaluation, with participation from Oak Ridge National Lab and the Atlanta Police Department bomb squad.
The second field exercise, in June at a Maryland Transit Administration station in Baltimore, tested two developmental fare-card vending systems that detect trace explosives residue on passengers' fingers. Four Sandians — Dave Hannum (6418), Mary Mitchell (6418), Akinbayowa Falase (6115), and Jim — planned and performed the field test and served as technical advisors.
Next step: assessment
Sandians will now begin assessing the systems and approaches based on the data gathered during the lab evaluations and field tests.
As part of the DHS program, Oak Ridge National Lab also is using enterprise modeling to assess the greater impact of new security systems on rail transit in terms of delays, costs, manpower, and other factors.