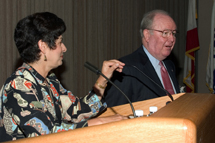 Charles McQueary, Under Secretary for Science and Technology for the Department of Homeland Security (DHS), lauded contributions of the national laboratories to the nation's safety in a speech delivered to an overflow audience on the eve of the third anniversary of the events of 9/11.
"We all know the world has irreversibly changed and homeland attacks are not only possible but probable," McQueary told the audience gathered at the Combustion Research Facility auditorium. "But we are far from helpless. You are and continue to be our enduring capability."
The fact that McQueary chose Sandia/California for his talk was an honor, said California Laboratory VP Mim John (8000) in introducing him.
"We're very honored that he chose to come here to recount a recent history of one of the most tragic days in US history," Mim said. She concurred with his acknowledgement of national laboratory employees, saying they have "dedicated themselves to this new mission with their heart and souls."
McQueary said it is a joy to discuss the advances made by the laboratories as he leads the research and development arm of DHS. He was confirmed by the Senate to this appointment in March 2003. His role is to use the nation's scientific and technological resources to provide federal, state, and local officials with defensive technology and capabilities.
As part of the nation's science and technology infrastructure, he said the laboratories responded quickly to the events of 9/11. Areas of contribution include hardening transportation, creating systems for early warning of possible biological attack, preparing radiological and nuclear defenses, and developing detection and countermeasure capabilities.
Projects being pursued through DHS include BioWatch, deployed over the last 18 months, which he said provides some protection to nearly 70 percent of the nation's population because they live near an area it covers.
BioWatch continually monitors air in more than 30 major cities, using a system that draws air over filter paper to trap particles for testing. A second-generation system in the works is geared for frequent sampling with little maintenance.
PROTECT, Program for Response Options & Technology Enhancements for Chemical/Biological Terrorism, is in place in the Washington, D.C., and Boston subway systems, where monitors help authorities reduce the risk of casualties in the event of a chem/bio attack. Information received by the monitors can cue operators to halt trains and shut off ventilation systems to limit exposure to an agent. On an average work day, some 1.3 million subway passengers in both cities are covered by this system.
Modeling and simulating information about threats enhances efficiency in a couple of ways. The simulation permits virtual, and hence, more affordable testing. It also provides a cost-effective and convenient way to conduct training. One such venue for use of this capability, McQueary mentioned, is the Atmospheric Modeling and Simulation Center at Lawrence Livermore National Laboratory.
The DHS is involved in a collaboration to develop biometric capabilities, he added, for fingerprint identification, iris scanning, and facial recognition systems. The collaboration involves the United Kingdom, Australia, and Canada and may expand to 45 nations.
A travel security initiative, meanwhile, should address several pressing issues, including the threat of terrorism, animal disease and defense, food security, and behavioral aspects.
Through such projects that draw upon critical partnerships between government entities at all levels, industry, and academia, McQueary said, "The nation is far better prepared . . . These developments are making the nation safer."