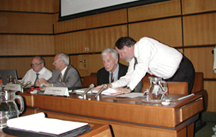 The US needs a systems approach to the problems of providing energy for the world in the 21st century, says Sandia President C. Paul Robinson, and Sandia can help. Nuclear energy is a key part of that solution: It can offer economic growth for developing nations, reduce environmental threats from greenhouse gases and water scarcity, and provide political stability by removing the dangers of nuclear proliferation.
But nuclear power has to be done right — and gaining acceptance for global nuclear power is a tough sell, he concedes. Last spring Paul accepted the position of chair of the US delegation of seven national laboratory directors, who met in Vienna, Austria, with nine Russian laboratory directors to discuss issues around nuclear power (Lab News, Aug. 4). The directors issued a joint statement on sustainable nuclear energy for the new century and agreed to pursue the cause with their respective governments.
Paul and the US laboratory directors are working closely with DOE, where Kyle McSlarrow, deputy energy secretary, has been a major supporter of the concept. With elections coming up, policy is now taking a back seat to politicking in Washington and elsewhere, but Paul recognizes the importance of working with either party. "Our aim is to provide the right technical answers to whichever party is in power," he says. "We are setting goals and moving ahead."
The global nuclear future concept got a big boost from an earlier Bush-Putin summit in Moscow, Paul notes. It makes sense for US and Russian scientists to have technological answers available for a future summit, following the elections.
US laboratory directors are also working with industry, says Paul. At a Decision-Makers Forum before the Vienna conference, held in Crystal City, Va., industry executives weighed in on the issues. "It was very well attended by key manufacturing and energy supply companies," says Paul. The large nuclear plant vendors of the 20th century are now largely gone, he notes. Many have moved into other energy generating areas. "A key question now is where will the manufacturing be done?" says Paul.
Recognizing that only nuclear power is capable of meeting the growing world demands for safe, clean, plentiful electricity, fresh water, and hydrogen for the critical transportation segment, the directors have outlined a plan to provide 30 to 40 percent of world electricity by 2050.
Using advanced reactor designs and fuel cycle concepts capable of also burning "surplus nuclear materials" from weapons work "we can extend the electricity available from our initial fuel estimates of 100 to 500 years up to 1,000 years," says Paul. This approach would require a change in US policy to use certain materials, particularly plutonium, as fuel.
Russian scientists have been doing a surprising amount of research on reactor designs and fuel cycles, with a variety of cooling systems, says Paul. "Their nuclear engineering capability is very highly developed." The role for US labs in supporting new policy involves their experiences in improving plant reliability, reactor control systems, and efficiencies to get the most electricity for the investor's dollar.
"In this country we have improved our reactors to the point where they are now operating so much better in producing electricity that we have created the equivalent of 27 additional plants to the grid," Paul told the Lab News. And that's important because no new nuclear plants have actually been built in the US since the Palo Verde nuclear plant in Arizona in the 1970s (although a number of plants started earlier and work stopped in the 1970s have now been completed).
Sandia's modeling and simulation capabilities can be valuable in predicting reliability of new plant designs. "We can build them and test them in cyberspace, and when we're sure a design has the required reliability we can build it. The Russians are keenly interested in this capability."
Spreading the cause beyond the US and Russia is another goal of the consortium of laboratory directors. France, a major nuclear power player, has expressed an interest and will discuss the concepts with US representatives, says Paul. Russia has committed to approaching Japan, another key player.
To make this nuclear dream a reality, the US government may have to intercede, as it did in the first nuclear era, to build some pilot plants to demonstrate the effectiveness of the new designs, says Paul. "Sandia's job will be system integration. We need to keep the consortium of talent we have together to provide leadership and move forward."
"We are doing our homework as a system of national laboratories to predict reliability and address safety concerns. We are addressing proliferation concerns as a centerpiece of the effort. This is a huge research task, but as a system of labs we can accomplish it."