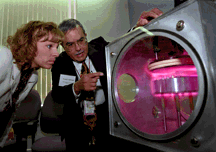 Business leaders and state and local officials from across New Mexico gathered in Albuquerque on Monday to discuss how technologies can help bring educational services, improved health care, and jobs to rural communities statewide.
Sen. Pete Domenici, R-N.M., asked Sandia to host Rural Economic Development Day to help focus the state's high technology sector, particularly its two Department of Energy labs, on the special problems of rural New Mexico communities. A primary goal of the Aug. 24 workshop was to identify technology projects that might encourage new business opportunities in outlying communities.
The daylong workshop is part of Domenici's "Rural Payday" concept, which promotes the improvement of telecommunications infrastructures in outlying towns so that rural citizens can take advantage of increased educational opportunities, including occupational and workforce training services.
Improved telecommunications infrastructures and trained workers make rural communities more attractive to businesses. Rural Payday seeks a renewed willingness by industry to locate call centers, financial data centers, Internet hubs, and a host of other telecommunications-dependent services in outlying towns. Domenici's office is establishing a nonprofit corporation, Rural Payday, Inc., to guide the initiative.
In an opening address, Domenici said leaders in small rural communities he visits often are frustrated that "they aren't getting enough of the prosperity that larger cities are getting."
He listed a host of economic development initiatives that "have begun to convince local communities that they have a much better chance of attracting big businesses to their towns than they ever thought they had," he said. "They must seize those opportunities."
"In New Mexico we have the unique situation of having three major research and development labs — Sandia, Los Alamos, and the Air Force Phillips Laboratory," Labs President Paul Robinson told the workshop's nearly 100 participants. "The key question is: 'Can their presence result in a payday enhancement for the state's businesses?' "
Technologies for rural New Mexico
As part of the workshop, representatives of Sandia, Los Alamos, New Mexico State University, and other high-tech organizations introduced technologies with possible applications in four areas: agriculture and water, manufacturing and electronic commerce, telecommunications infrastructures, and small business assistance.
"There are so many opportunities in science and technology at Sandia, at Los Alamos, and at the state's universities that are going to allow this state to enjoy the prosperity that comes with modern technology," said Bob Eagan, VP for Physical Sciences and Components Div. 1000.
The Demand Activated Manufacturing of Apparel (DAMA) project, for instance, part of work Sandia is doing with the AMTEX textile manufacturing consortium, demonstrates how rural suppliers, manufacturers, retailers, and consumers might be electronically linked so that orders can be customized rapidly and purchasing trends tracked in real time, he said.
Teams of rural community leaders in each area identified potential technology projects and strategies that might support economic growth in their cities and presented their recommended actions to Domenici. At the end of the day, Domenici, Paul Robinson, and officials of the Small Business Administration and the Small Business Development Centers in New Mexico signed a partnership agreement that commits the organizations to providing business and technical assistance to rural New Mexico companies.
"This is a chance for community and business leaders to get a first-hand look at Sandia technologies and assess whether any of them may be applicable to rural initiatives," says Rural Economic Development Day project leader Cesar Lombana (4324). "Sandia isn't seeking work from this. We would like to be a technology catalyst for the formation of projects and new companies."
More information about Rural Economic Development Day is available at http://rural-payday.sandia.gov.