Researchers from conflicting countries teamed to resolve problems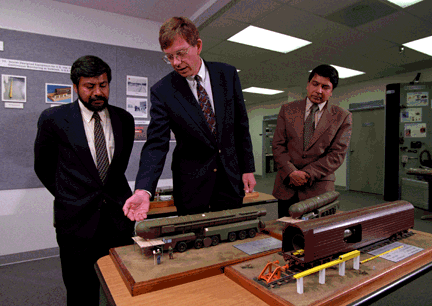 This article was written and approved before India's recent surprise series of underground nuclear tests. – Editor
In another time and place Nazir Kamal, an international relations expert from Pakistan, and Pravin Sawhney, a journalist and former major in the Indian army, might have found themselves on the opposite sides of the political fence.
But at Sandia's Cooperative Monitoring Center (CMC), where they participate in the two-year-old Visiting Scholars Program, they are working together as a team to help resolve historical conflicts between their two countries.
BEFORE THE TEST – Kent Biringer (center), South Asia Program Manager at Sandia's Cooperative Monitoring Center (CMC), shows Nazir Kamal (left), an international relations expert from Pakistan, and Pravin Sawhney, a journalist and former major in the Indian army, a model of a nuclear missile at the CMC. Kamal and Sawhney are at Sandia as visiting scholars for the next few months investigating missile transparency between their two countries. The photograph was made before the recent Indian nuclear test series. (Photo by Randy Montoya)
The pair are investigating missile transparency between Pakistan and India in an attempt to prevent an arms race that, if left unchecked, could kill thousands of people on both sides of the border. They will include their findings in a paper to be published by Sandia later this year.
"Over the next few months we will study the development of missiles in both countries and figure out how best to contain the competition using new technologies," Kamal says.
Such technologies, many on display at the CMC, range from remote monitoring sensors to satellite and aerial image analysis.
The two researchers hope that their work will eventually catch the attention of the political powers in their countries who will seriously consider examining their suggestions.
Researchers work together
Kamal and Sawhney are among the half-dozen foreign researchers hand-picked each year to spend three to six months at the Cooperative Monitoring Center's Visiting Scholars Program. They work in an atmosphere designed to stimulate research and promote better understanding of the role of technology in supporting cooperative security between countries.
The Visiting Scholars Program was proposed by Kerry Herron, a political scientist who spent two years at Sandia's CMC doing postdoctoral work and who is now associate director for security studies with the Institute for Public Policy at the University of New Mexico. The program was approved and implemented by Arian Pregenzer, Manager of the CMC (5341), with the first cycle of scholars completed last year.
"The CMC was established in 1994 to develop and provide information about how technologies can be used to make the world a safer place. Through the Visiting Scholars Program we have expanded that concept to encourage scholars from areas of regional conflict to come to the center to work together to try to resolve problems using the vast array of technologies available," Kerry, program coordinator, says. "It was not to be a fellowship, a scholarship, or a place to do graduate work. It was to be a place where experienced scholars could cooperatively study specific security issues."
Involvement of UNM
Because foreigners need a special J-1 visa to come to the US as scholars, and these are usually obtained by having a university sponsor, Sandia turned to UNM's Institute for Public Policy to coordinate the program. The two organizations signed a contract, and it became UNM's responsibility to recruit and then hire the scholars and help them obtain their special visas. The program pays for their air transportation, a residential stipend, and monthly salary.
While at the center, located at the Sandia Research Park outside the Eubank gate, the scholars have access to computers, personal offices, a specialized library, and CMC's staff and technology collection. The CMC also arranges for the visiting researchers to interact with other experts at Sandia or other national laboratories, if needed.
Outcomes of the scholars' stays are typically an "occasional" paper – one of a series of analytical papers published by the CMC on a variety of subjects. The authors also submit papers to professional and regional publications.
Regional experts needed
Kerry notes that in selecting scholars, he and the CMC staff are generally looking for people from conflict-prone areas with knowledge of regional security issues and an interest in arms control and conflict avoidance.
"We need experts from these regions," he says. "No matter how many trips we [the CMC staff] make to the foreign countries in question, we won't understand the country or the situation like someone from there."
For example, Sawhney, who was in the Indian army for 131/2 years and has spent the past nine years as a journalist writing about international defense, brings a perspective that the problem in India isn't so much a conflict with Pakistan as a lack of an understanding about the dynamics of war.
"The concept of war has changed between the two countries. It has metamorphosed from what it was 50 years ago into a low-intensity conflict with a whole new set of security requirements," he says.
Last year two other political scientists from South Asia, including an analyst from Pakistan and an Indian professor, studied how to resolve a conflict between the two countries over control of the Siachen Glacier in the eastern Karakoram mountain range, adjacent to the borders of India, Pakistan, and China. It has been the longest running armed conflict between two regular armies in the 20th century. Another collaboration of a Pakistani and Indian scholar addressed exchange of people, ideas, trade, and technology to promote peaceful coexistence of India and Pakistan. Other scholars have included a Russian diplomat who wrote a paper on missile proliferation in Russia, and a German physicist who studied the use of acoustical sensors to identify vehicles from the sounds they make as they travel.
Expected later this year is an Indian, Amit Gupta, who, along with Kamal, will analyze conventional armaments in South Asia. Also coming are a Jordanian who will research border security issues, a South Korean who will study opportunities for promoting transparency between North and South Korea, and a Canadian chemist who will study how technology can assist in United Nations peacekeeping.
Each scholar is assigned a CMC staff member who serves as a mentor and advisor. Kent Biringer (5341), for example, is there to help South Asians, like Kamal and Sawhney. As CMC's South Asia Program Manager, he has found that the researchers coming to the Scholars Program are interested in several common topics that promise exciting research.
"They all seem to want to know about monitoring border security and conventional military threats; assessing nontraditional security issues such as environment, natural resources, pollution, commerce, and trade; developing agreements between countries who don't trust each other; and addressing issues of asymmetry between countries that don't have the same levels of technology," Kent says. "The CMC Visiting Scholars Program gives researchers an opportunity to explore these issues and maybe make a difference in the security of their countries."