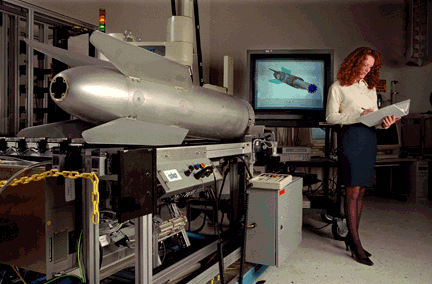 ON SCREEN AND IN PERSON A sample of the Archimedes 3.0 sequence for the B61 tail assembly appears on the screen behind team leader Terri Calton (9621), while an actual tail assembly is in the foreground. Different sections of the B61 weapon were processed using Archimedes 3.0 at three nuclear weapons complex sites.
Archimedes is alive and well and about to go to work big time for private industry.
Not the Greek mathematician and inventor, of course, but Archimedes 3.0.
Archimedes 3.0 is the latest and most advanced version of a Sandia-developed planning and visualization software tool that generates, optimizes, verifies, and examines sequences of mechanical assembly by directly exploiting three-dimensional computer-aided design (CAD) models.
Archimedes has already proved valuable in helping solve some highly complex assembly problems for private companies, and now Sandia is forming a consortium of industrial, academic, and professional organizations to explore options for further expanding its use. Intelligent Systems and Robotics Center 9600 plans to host the first meeting of the consortium March 2 and 3.
Reasoning robustly in 3-D
Archimedes began at Sandia as a vertically integrated system to generate robot programs from CAD models. In 1992, Center 9600 began an effort to redevelop the system into a production-like tool that could take data from industrial CAD models and reason more robustly about fully 3-D operations.
Archimedes team leader Terri Calton, Russell Brown, and Ralph Peters (all 9621) have been working to accomplish that, overcoming problems with past mechanical assembly planning. Archimedes 3.0 is the result.
The emphasis now is on model validation, design feedback, and assembly animation. Archimedes 3.0 has an easy-to-use graphical user interface and allows users to incorporate nongeometric constraints, including tool constraints.
Archimedes is a key element of Sandia's revolution in engineering. "One value resulting from using a system like Archimedes is that it brings the research, design, and manufacturing communities together to address the fundamental problems in the manufacturing community," Terri says. "The research team has been working with design and manufacturing groups within Sandia/New Mexico, Sandia/California, Allied Signal/Kansas City, and the private sector."
Cummins Engine Company is one of the companies evaluating Archimedes. It took three-plus months to get its current CAD assembly packages to generate in-process graphics into a particular Cummins system, says Karen Crapse, Manufacturing Program Leader at Cummins. "With Archimedes' output, similar graphics could easily have been produced in a week or less." She says the Archimedes program developed by Sandia provides a very fast method to generate an optimized assembly sequence directly from CAD data.
Archimedes worked on B61
The Archimedes technology was developed as part of Sandia's defense programs mission and has been applied to such things as designing assembly sequences for several weapon safety devices and for the B61. In fact, different sections of the B61 weapon were processed for three different sites of the nuclear weapons complex (NWC).
A new modification and proposed design of the B61 nose assembly incorporates new radar hardware and sophisticated structured elements to withstand the high-shock environments.
"During hardware evaluation stages," says Jim Mahoney of Allied Signal/Kansas City Federal Manufacturing and Technologies, "Archimedes was used to determine manufacturability of the assembly. Pro/E parts were transferred to the system, assembly plans were evaluated, and assembly instructions and options were evaluated with process engineers."
"Archimedes has been at Allied Signal for about a year now," says Terri. "California Weapons Engineering Center, Advanced Weapon Systems Engineering Department, also has Archimedes on its desktops."
Center 9600 anticipates making further enhancements to Archimedes during the upcoming fiscal year to support new defense program requirements.
"This copyrighted software package allows product and process engineers to define assembly process constraints, automatically determine alternative assembly sequences satisfying those constraints, optimize the assembly process according to a user-specified quality metric, and visualize and communicate the results quickly and graphically," says Terri.
Private sector interested
A number of private sector companies have contacted Sandia expressing an interest in the Archimedes technology. Raytheon Missile Systems Company (formerly Hughes Missile) in Tucson discovered the Archimedes program when it approached Sandia for help with designing the guidance section of an air-to-air missile for the Naval Air Systems Command. The experience with Archimedes and the resulting assembly simulation video became part of a
45-minute presentation Hughes gave to its Navy sponsors about the design.
"That presentation was cited by the Navy as a strong contributing factor to awarding the contract to Hughes," says Terri. "AIM-9X is a joint Navy and Air Force program with the Navy serving as the executive service. The program is worth an estimated $5 billion in potential sales over the next 20 years. US production would include up to 10,000 missiles, and a significant potential exists for international sales to allied nations."
Consortium now forming
The Archimedes assembly analysis tool has been tested on numerous assemblies from industrial and government sources. As part of its technology transfer program, Sandia is able to partner with private companies to perform research and development on technologies that are of mutual benefit to the labs and the private sector.
Sandia has been working with a select group of companies that have expressed interest in the Archimedes technology, and in recent months they have put together a plan for a consortium-based partnership. This consortium will help determine a future for Sandia's Assembly Planning Software Tool.
The consortium is expected to enhance the software during calendar years 1998, 1999, and 2000 in support of new defense program requirements and the needs of interested commercial parties.
At the first organizational meeting at Sandia March 2-3, the hope is to lay the foundation for a successful partnership. "The potential partners will be given the opportunity to tell us what their assembly-related problems are and how they want to go about using Archimedes to solve those problems," says Terri.
Sandia and the consortium members are expected to identify new features and software modules for the Archimedes software tool. Many private sector companies have already expressed interest in integrating assembly-related cost modules, modules to automate human interference checking during assembly, and multimedia documentation modules.