Quantum technologies, especially quantum computers, show great promise for revolutionizing high-performance computing and simulation. As prototype quantum computers come online, it is becoming clear that obtaining useful output from such devices will require layers of sophisticated classical software that provide interpretation and analysis of the quantum computer's state and output. OVER-QC will develop critical components in this software stack with a particular focus on enabling near-term Noisy Intermediate-Scale Quantum (NISQ) technologies. We have identified three critical needs for near-term quantum computing platforms, and the project is structured around three thrusts that address these needs:
Thrust 1: develop capabilities to verify and certify translations of abstract quantum algorithms to quantum circuit programs;
Thrust 2: develop tools to identify the reliable information that can extracted from near-term devices in the absence of fault-tolerant operation;
Thrust 3: develop interfaces for variational hybrid quantum-classical processors (VHPs) that enable applications by connecting classical algorithms to quantum co-processors.
The following figure illustrates how these thrusts fit into the conventional picture of a quantum computing software stack, and how the outcomes of each thrust inform the other ones.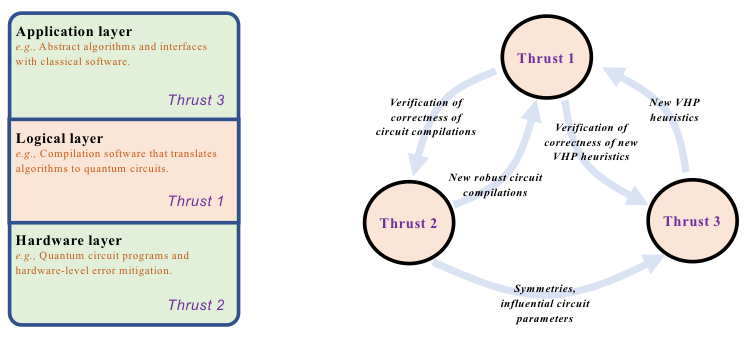 A key aspect of OVER-QC is that we will not only develop software tools targeted for use with near-term quantum computers, but we will also invest significant effort into understanding the reliability and computational power of near-term devices. In particular, we will address two key questions:
Is it possible to engineer the dynamics of NISQ devices so that they have robust algorithmic properties in the presence relevant error models.
What is the real computational advantage posed by algorithms running on NISQ devices, and specifically, what level/type of noise permits some computational advantage over classical algorithms and heuristics for the same tasks.
Answering these questions will not only guide the development of quantum algorithms tailored to near-term quantum devices, but it will also reveal the fundamental computational potential of non-fault-tolerant quantum devices.
The four-year project started in October 2018. The project's members are from Sandia National Laboratories, Los Alamos National Laboratory, Dartmouth College and University of New Mexico. OVER-QC is closely linked to its sister project QOALAS, funded under the Quantum Algorithm Teams program of DOE/ASCR. Other DOE/ASCR projects the OVER-QC team members collaborate with are:
See the OVER-QC website for more details.
Members of the OVER-QC Project
| | |
| --- | --- |
| | Mohan Sarovar, Lead PI, Thrust 2 Lead, Sandia National Laboratories. Expertise: Quantum computing, quantum control, open quantum systems. |
| | Andrew Baczewski, Thrust 3 Lead, Sandia National Laboratories. Expertise: Quantum simulation, qubit modeling, numerical analysis, and materials science. |
| | Wayne Witzel, Thrust 1 Lead, Sandia National Laboratories. Expertise: Quantum computing, qubit modeling, software for theorem proving. |
| | Patrick Coles, PI, Los Alamos National Laboratory. Expertise: Quantum computing, quantum algorithms. |
| | James Whitfield, PI, Dartmouth College. Expertise: Quantum computing, electronic structure, molecular physics. |
| | Ojas Parekh, Sandia National Laboratories. Expertise: Quantum optimization, discrete optimization, algorithm design and analysis. |
| | Matthew Grace, Sandia National Laboratories. Expertise: Control, analysis, and simulation of quantum dynamical systems, especially in the context of quantum information and devices |
| | Denis Ridzal, Sandia National Laboratories. Expertise: Applied mathematics, numerical analysis, numerical optimization |
| | Greg von Winckel, Sandia National Laboratories. Expertise: Applied mathematics, numerical analysis, numerical optimization |
| | Kenneth Rudinger, Sandia National Laboratories. Expertise: Quantum computing, quantum algorithms, quantum characterization, verification and validation |
| | Antonio Russo, Sandia National Laboratories. Expertise: Quantum computing, condensed matter theory, topological order |
| | Lucas Kocia, Sandia National Laboratories. Expertise: Semiclassical theory, quantum computing |
| | Geoffrey Hulette, Sandia National Laboratories. Expertise: Formal methods, logic, trusted digital systems |
| | Lukasz Cincio, Los Alamos National Laboratory. Expertise: Quantum computing, computational quantum many-body physics, machine-learning |
| | Yigit Subasi, Los Alamos National Laboratory. Expertise: Quantum computing, quantum thermodynamics, nonequilibrium statistical mechanics |
| | Jon Aytac, Sandia National Laboratories. Expertise: Formal methods, quantum computing |
| | Alicia Magann, Sandia National Laboratories and Princeton University. Expertise: Quantum control, quantum computing, molecular systems |