Battery Data Genome aims to spur innovation, green economy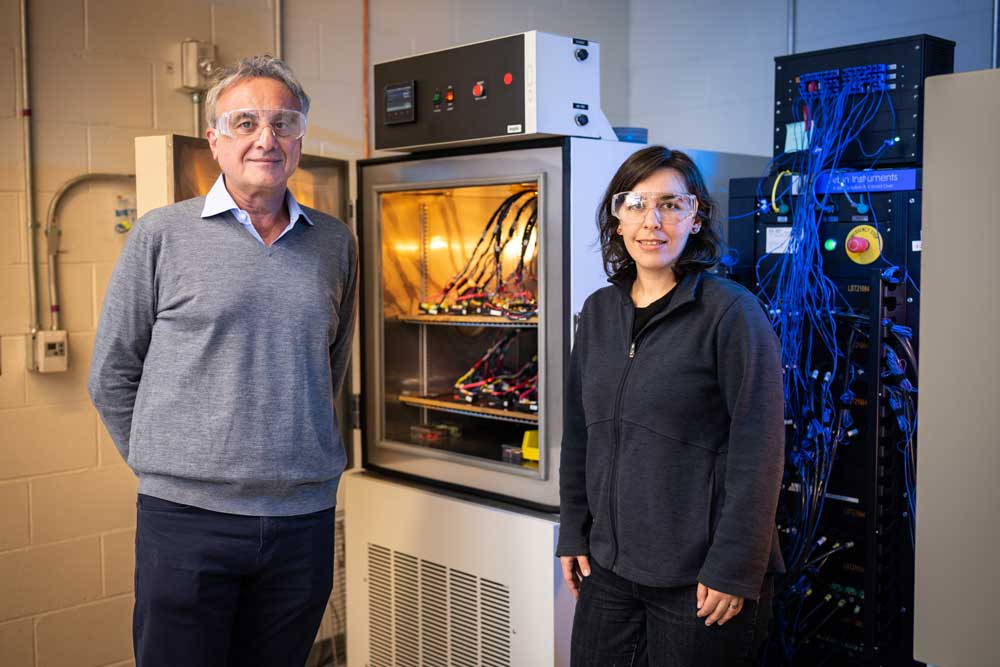 A consortium of researchers, including Sandia battery experts Yuliya Preger and Valerio De Angelis, are working together to stimulate battery innovation by developing battery databases. Ultimately, they hope to expand the role of batteries in supporting the transformation of electric grid infrastructure including the integration of renewable energy resources and electrification of transportation systems.
The team, which includes scientists from other DOE labs as well as academic and industry research institutions around the world, published their proposal and call to action in the scientific journal Joule last October.
Their project, called the Battery Data Genome, expands on the Sandia-supported Battery Archive, Yuliya said. The Battery Archive was the first public multi-institution repository of battery degradation data.
"In the last couple of years, the Battery Archive has been used by thousands of people in more than 60 countries to easily visualize and compare battery degradation data," Yuliya said. "These users have included undergraduate students working on class projects, software developers needing battery data to test new models, developers of non-battery energy storage who want to understand how batteries degrade and utility engineers who want to incorporate basic battery degradation into technoeconomic analyses. The impact of the Battery Data Genome would be far greater."
Building better databases
Like the Human Genome Project, the Battery Data Genome aims to develop large battery databases with flexible sharing options to spur innovation in the development of battery technologies.
"The electrochemical science that is urgently needed for a zero-carbon economy requires state-of-the-art data science," said Susan Babinec, Argonne battery scientist and project co-lead. "Tackling the extremely complex technical questions that battery scientists face requires huge amounts of data to generate AI and machine learning algorithms."
The team calls for researchers from basic discovery science to engineers involved in large-scale energy-storage projects to join, first to develop data standards, and then to generate and share data. The project aims to develop standardized, globally accepted methods for data generation, formatting and archiving data. These standardized methods and formats will enable sharing of information between the various specialized databases.
These databases will be particularly helpful for data scientists, as large sets of data are necessary for algorithms such as machine learning and artificial intelligence. These algorithms can glean insights not readily apparent from the raw data and the team hopes that this will inspire battery innovation from basic discovery research to real-world energy-storage projects.
Databases for climate security
The team hopes that improvements in data science will decrease the time, money and risk of developing, scaling up and deploying new and improved battery technologies, thus spurring more investments in battery technologies and large-scale energy-storage projects. They hope that this will increase the rate of building new energy-storage projects and electrified transportation modes, ultimately reducing our reliance on fossil fuels and mitigating the impacts of climate change.
"When working at the City College of New York and Urban Electric Power, I experienced how difficult it is to relate lab data with field results," Valerio said. "The Battery Data Genome collaborative will provide tools that the community can use to standardize and simplify data analysis and reduce the time it takes to bring new battery technologies to market."
Yuliya and Valerio's work is supported by DOE's Office of Electricity, Energy Storage Program under the direction of Imre Gyuk. Other institutions involved in the Battery Data Genome project so far include Idaho National Laboratory, National Renewable Energy Laboratory, Germany's Aachen University, Carnegie Mellon University, Oxford University, University of Chicago, University of Hawaii, University of Illinois at Chicago and University of Washington. Also involved in the project are the Faraday Institution in the UK; Helmholtz Institute in Germany; SINTEF Industry in Norway and Toyota Research Institute in California.