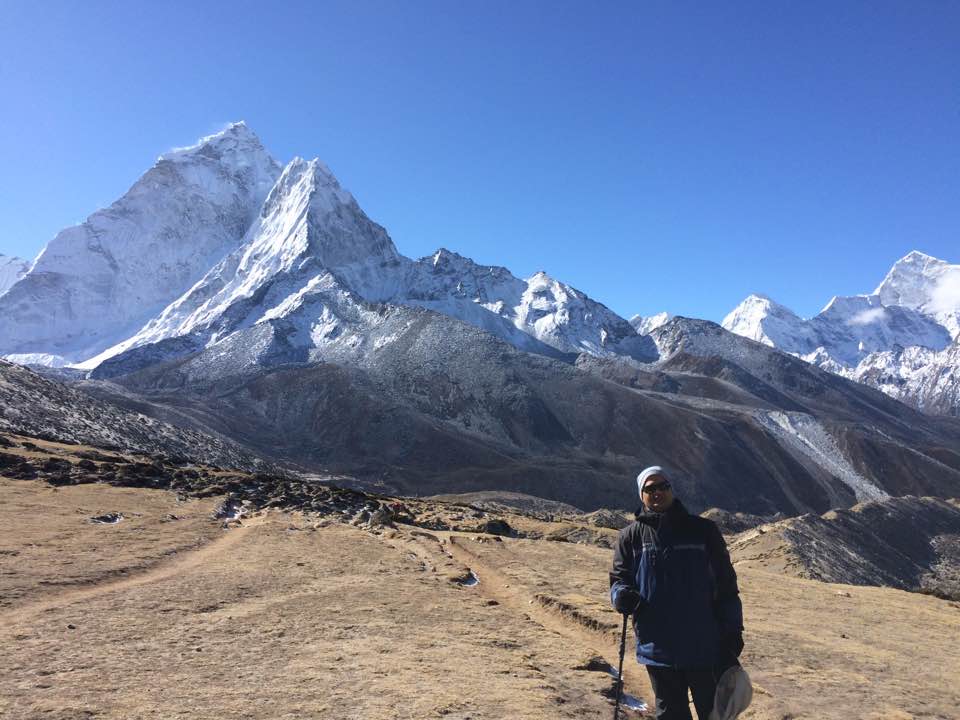 Creating new knowledge in the field of soil carbon storage and dynamics is Umakant Mishra's life work, his calling, his passion — and it's also his career. Umakant, a biological sciences and engineering soil scientist at Sandia, spends his days studying the terrestrial carbon cycle and the ways in which excess carbon in the atmosphere, as a result of climate change, may impact other soil properties and functions. Umakant is driven by his desire to discover and share new knowledge that could positively impact climate change research and education. He has published more than 100 soil- and climate-related articles and presentations and is passionate about providing an environment in which future generations of researchers and scientists will have support to pursue climate-related work.
"I have had a very fortunate professional career with opportunities to work with brilliant minds of our time, and the things that I have learned from my career — especially about honesty and ethics in sciences — I try to instill those features in the people who work with me. I try to do my best so that the students, postdocs and the early career staff who work with me have the same kind of learning environment that I experienced early in my professional career," said Umakant.
In 2022, Umakant was awarded the International Union of Soil Sciences Jeju award, which recognizes mid-career scientists who have "innovative and outstanding accomplishments in education, research or extension in soil sciences." In 2020, he received a Certificate of Excellence from the Regional and Global Model Analysis program area within the DOE Office of Science. His publication, "Observational needs for estimating Alaskan soil carbon stocks under current and future climate," was ranked by the DOE Office of Science as one of 2017's top stories. Umakant is the chair of the International Soil Science Award Committee for the Soil Science Society of America, an executive board member of the International Soil Modeling Consortium and an active associate editor and technical editor for multiple journals.
Umakant was born in Nepal, where he received his bachelor's degree in agriculture from Tribhuvan University. He then moved to Ghent, Belgium, receiving a master's degree in physical land resources before completing his doctorate in soil science at The Ohio State University. Prior to joining Sandia a year and a half ago, Umakant spent eight years at Argonne National Laboratory and two years as a geological postdoctoral fellow at Lawrence Berkeley National Laboratory.
Lab News: Why are you passionate about climate change?
Umakant Mishra: I'm a scientist, and it is my job — along with my team — to create new knowledge in our area of study: the terrestrial carbon cycle. This has been my area for the last 13 years. I study the feedback between carbon and climate, and more specifically, how land use and climate change are impacting or altering soil properties and soil functions.
This is not just a job for me. If I were not at Sandia, I would still do the same thing. Studying the terrestrial carbon cycle is what I will be doing probably my whole life. This is the area where I contribute. This is where I want to spend my scientific career.
LN: What does "climate security" mean to you?
UM: So, when we use the term climate security, we typically mean the security risks induced by climate change. Climate change does not directly cause a security risk, but it does amplify and accelerate the security risks in society. For example, climate change impacts the risk on food security, the risk on water security, the risk on energy security and the risk on ecosystems and soil resilience.
I study the risks on soils and vegetation as a result of climate change. If you look at the total carbon cycle, soils store the largest amount of carbon in the terrestrial ecosystem. Therefore, I'm confident that unless soils and terrestrial ecosystems are managed properly and scientifically, no significant contributions can be made towards enhancing or achieving climate security.
LN: What climate-related challenge are you most excited to work on?
UM: Climate change impacts a large number of components in the environment we live in. It impacts soils, water, vegetation and many other components of the terrestrial ecosystem. The research my team and I conduct is guided by two simple questions. The first one is, "How is climate change altering the terrestrial carbon cycle?"
The second question is, "How will the projected climate extremes, such as heavy rainfall or excessive drought, impact the sustainability of agroecosystems?" In our research, sustainability means the ability to function properly. For example, soils provide many ecosystem services: water, minerals, food production and storage for a large number of biodiverse organisms. We are interested in quantifying how soil properties and functions will be altered or impacted by changing climate.
LN: How does your work at Sandia advance climate security?
UM: Because we conduct fundamental research, my team and I make original contributions through peer-reviewed publications at the intersection of climate, soil and vegetation. We try to create new knowledge in the domain of the terrestrial carbon cycle.
For example, we recently published a study that predicted the vulnerability of surface soil organic carbon in the continental U.S. under high- and moderate-emission scenarios. If we have moderate emission levels, how much soil carbon will we lose from the continental U.S. and what could happen in extreme emission scenarios?
In another recent publication, we quantified how change in soil carbon affects other soil properties and recommended management practices to help mitigate climate change and advance food security.
We advance climate security through our research contributions by quantifying and reducing the uncertainties in the impacts of climate change on different components of terrestrial ecosystems.
LN: What unique perspective or capabilities does Sandia bring to addressing the climate crisis?
UM: Sandia can't address the climate crisis alone — it's a global phenomenon. But Sandia can contribute to the mitigation efforts in a unique way. I have been at Sandia a year and a half, and — from my perspective — I think we bring carbon cycle research knowledge to the table. Sandia has very good measurement capabilities: measuring atmospheric properties, sensing technologies, computational tools and models. As an engineering lab, we can provide engineering solutions to, let's say, enhance soil or terrestrial carbon sequestration. That means Sandia can deploy engineering technologies that can help sequester more carbon from the atmosphere into soils and safely store them.
LN: What will the nation or world look like in the future if we are successful in addressing climate change?
UM: This is a hypothetical scenario because I would say we can only be part of the solution. We cannot solve climate change on our own because it's a global crisis. But obviously we can be a part of the global effort that is addressing climate change through mitigation and adaptation.
Without collaborations, we cannot produce new knowledge towards mitigation and adaptation technologies. Ideally, if our collective efforts succeed, we will have fewer climate-extreme events in the future, more confidence in predicting the ecosystem response to changing climate, improved agricultural productivity and, ultimately, more resilient ecosystems. Basically, we will be serving humanity in multiple facets if we successfully learn to mitigate climate change.
LN: What is your vision for integrating energy equity and environmental justice into Sandia's climate security efforts?
UM: Climate change provides us opportunity to make our technologies and solutions more equitable. For example, we can direct our approaches to address climate change while also thinking about how we can use our technologies to benefit minorities and disadvantaged populations.
Currently, we are part of a multilab team working on proposals for urban science. Our proposed research hopes to use measurement and mitigation approaches focused on benefiting the disadvantaged populations typically found in urban centers. These groups have limited access to certain resources. Research opportunities like this are becoming more and more popular in the DOE domain, so I think we are making efforts to integrate equity and justice in the research efforts we are conducting.
LN: If you were trying to recruit somebody to work on the problem of climate change, what would you say to them?
UM: I always say this to my team members: if they want to contribute to scientific knowledge, they should work with me. I enjoy working with motivated people who are passionate about generating new knowledge — those who enjoy doing so because by creating new knowledge, we are helping humanity grow.
We are trying to make our world a better place to live, so I try to motivate students and postdoctoral researchers to become more curious and to think critically. If they are passionate about their research and able to internalize it, then we can make a great team and work much better to address the problems of global concern that humanity cares about.
I provide my graduate interns with a storyline to work on. If they are passionate or find it interesting, then they should be able to write their own papers with my help. I always try to encourage the younger generation toward the kind of science that is impactful — or science that has a wisdom component.
LN: How can we educate and involve more people in addressing the climate crisis?
UM: I think human civilization is all about telling stories from one generation to another. Writing research stories that can be found interesting by a large population is a great start towards addressing the climate crisis.
When conducting research, I try to involve students and interns and develop research collaborations with universities and other national labs. We then can present our research to communities, federal agencies and scientific societies to draw attention to our findings and new knowledge.