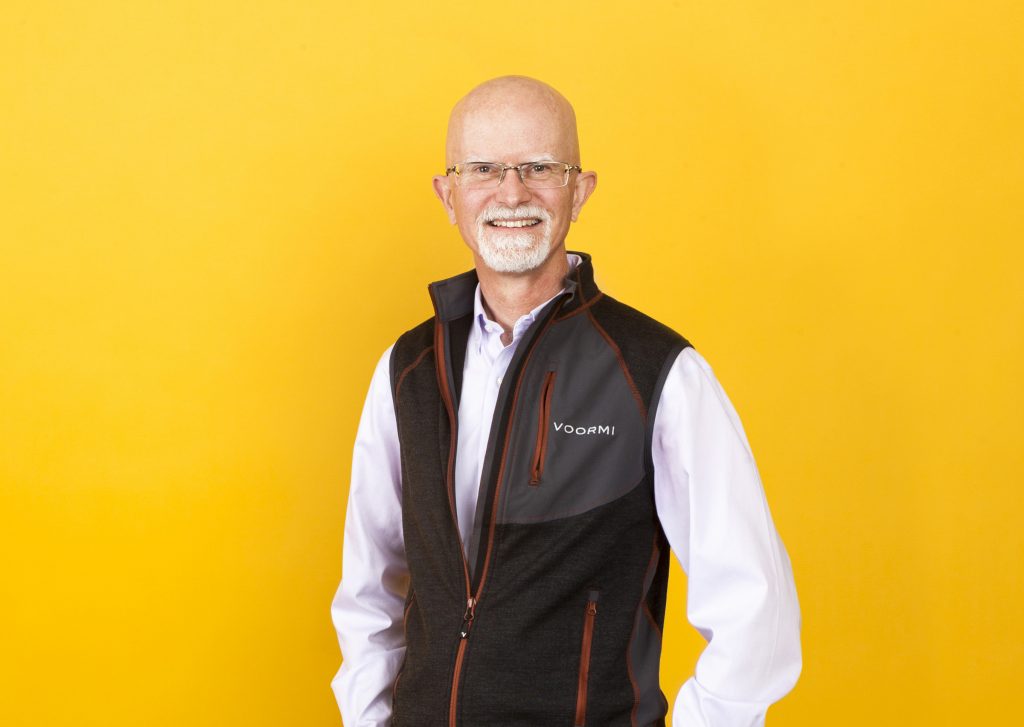 Andy McIlroy, associate labs director of the Integrated Security Solutions division that stretches across Sandia's sites, understands how unsettled many may feel after enduring the past 18 months because he feels the same way. But for Andy, the disorientation that pervaded most of that time was dwarfed by the heart and dedication he saw his fellow Sandians display.
"We have 14,000 people conducting some of the most important work in the nation," he said. "It's easy to lose sight of the incredible positive momentum at the Labs, but I think it's important to step back and remember that Sandia does truly amazing things."
March 2020 — Evolution and revolution
When the pandemic forced Sandia to empty its campuses for a time, Andy and the senior leadership team knew we had to find a way to resume work on vital national security projects. But even he admits that his expectation that the Labs would continue mission activities and meet all major deliverables in the midst of a pandemic might have been greeted with incredulity at that time.
"I think I would have been laughed out of the Laboratories," he said with a wry smile. "And if I had said, 'Oh, and we'll do this next week,' people would have said I was in need of a much longer vacation."
Yet, with some technical issues to overcome, that is exactly what happened.
"It was remarkably successful. That was a bit revolutionary because we took a much bigger leap than we would have under almost any other circumstance," he said. "The ingenuity and dedication of our IT folks to deal with some very real issues were on full display when 14,000 people suddenly began telecommuting. Our staff overcame those challenges and then successfully brought back the people who needed to be on-site."
But there was also the matter of making the site safe for everyone, which fell to the Facilities team. Andy credited the team for their smooth handling of the tricky situation.
"All of a sudden we had to figure out capacities in conference rooms and how to bring our janitorial staff on-site often enough for cleaning," Andy recalled. "We had to understand the airborne transmission characteristics of COVID-19. We also had to think through the process for increasing airflow in all the buildings."
So Sandia's biomedical experts compiled everything that was known about COVID-19, drew upon early data and developed guidance for creating a safe worksite.
"All of this happened almost invisibly to most people who were working remotely while our on-site staff labored feverishly to apply new knowledge and set up a safe environment," he said. "Put yourself in their shoes. Those folks really stepped up, taking on duties in an extremely stressful environment. Simply put, they were awesome and did an amazing job."
Engineering safety — at work and at home
Sandia is used to thinking about safety and creating safe environments. Andy acknowledged that this mindset was put to the most extreme of tests, in which failure might not just endanger a member of the workforce but their entire family.
"We were used to thinking about safety problems as situations we could control very tightly on-site," Andy said. "By engineering safety protocols, we could be extremely confident in the safety of everyone involved. But the safety scenarios typically considered at Sandia essentially ended at the Labs' gates. Our safety considerations didn't extend to people's houses. The pandemic was a completely different challenge because we could theoretically do everything right at work yet still experience infections in our private lives."
This twist led Sandia to talk about safe practices in very different terms, creating guidance as a lifestyle. Today it seems clear to Andy that people took these recommendations to heart.
"When you look at infections within our Sandia population, we are at a tenth or lower of the infection rate in our surrounding communities, both in New Mexico and in California," he said. "It seems clear that folks internalized the safety practices they used at work and practiced them at home to keep their families safe."
Andy says a big part of creating safe spaces at work and peace of mind at home came from the many Sandians in New Mexico and California who created a robust COVID-19 testing program.
"The testing program we stood up at Sandia was based on having in-house expertise. Not only could we safely conduct nasal swabs, but we could perform the analysis of these swabs in a way that met all regulatory requirements," he said with pride. "We were one of the last DOE national labs to submit a plan to stand up a testing program because we spent a lot of time examining the safety protocols and establishing safe ways to bring people on-site. However, we were the first national lab to have our plan approved and actually begin the testing."
He called the effort "heroic."
"We identified early on that testing would be crucial to keep mission activities going," Andy said. "Sandia has unsung heroes who continued to execute our testing capability for more than a year. These are R&D scientists. They were not hired to run routine samples, but they conducted these tests because it was the right thing to do for the Laboratories during the pandemic."
Diversity and individuality
As work at Sandia stabilized and settled into a temporary new normal, Andy worried that members of the workforce were stretched thin.
"The workforce writ large just showed incredible resilience," he said. "The situation was and continues to be quite dynamic and stressful. I was so impressed with how willing people were to make significant adjustments, sometimes on what felt like a daily basis."
Andy observed that more facets of inclusion and diversity came to light during the pandemic.
"During this past year, we realized that understanding individual circumstances is key when caring for the diversity of people at the Labs and that needs can vary from day to day," he said. "For example, in the pandemic, parents found themselves burning the candle at both ends — and sometimes in the middle — as they cared for and taught kids who were home all day while simultaneously getting work done. People who were caregivers for other family members found themselves in similar situations."
Andy said the inclusion and diversity teams also saw participation increase in their programs.
"In the past, maybe 10 people would show up for an event — or perhaps 50 for a really interesting Diversity Cinema — but hundreds of people began attending the virtual inclusion and diversity sessions online," he recalled. "All in all, it's important for Sandia to continue to seek to engage and support our workforce members as different needs arise."
"I'm the executive champion for both the Sandia Parents Group and the Division Diversity & Inclusion Ambassadors Labs-wide, as well as for the African American Outreach Committee at Sandia/California," he continued. "Together, we are working to realize Sandia's vision of providing an inclusive and engaging work environment for all. I'm especially glad that we have been highlighting our employee resource groups this year, and I encourage everyone to visit or join a group. They are a great way to expand awareness of other perspectives, build relationships and strengthen our cross-functional teamwork across the Labs."
Evolution of the Labs
Andy has begun to look forward.
"We've seen both evolution and revolution this past year, and I anticipate even more evolution as we shift from the Labs' maximum telework stance to a new hybrid work environment," he said. "It won't be the same Sandia that we left 18 months ago."
Beyond the new hybrid work environment of people working on- and off-site, Andy said NNSA and Sandia have invested in infrastructure improvements on both the California and New Mexico campuses that enhance and sustain Sandia's service to the nation.
"President Biden's budget proposal remains robust in support of national defense," he said. "With respect to the Energy and Homeland Security Portfolio, which is a major responsibility for our division, we are experiencing a very strong mission pull from the Cybersecurity and Infrastructure Security Agency, within the Department of Homeland Security, as they increasingly recognize Sandia's very deep expertise in cybersecurity."
Andy also talked about the important contributions the division's new Climate Change Security Center is poised to immediately make.
"The center's work in renewable energy and geosciences is well-positioned to attack some thorny issues for the nation," he said. "Sandia has the only concentrating solar power research station in the nation. The combination of renewable power generation and the clean storage that comes with it has the potential to be game-changing. It's a bit of a moonshot, but we are looking at how our Sandia sites may also be able to transition to renewable energy. We think this is practical enough that we're willing to eat our own cooking here."
Andy added that Sandia's "secret power" is its ability to nucleate the larger community of engineers who know how to take science and turn it into national impact through fully engineered systems ready for end users.
"That is very rare in the national lab complex," he explained. "There is a lot of great science throughout the DOE national labs. However, taking that science all the way to application is a core competency near and dear to Sandia."
Looking forward with optimism
Andy knows that so much change in so little time — whether through a worldwide pandemic or natural evolution — can be disorienting for any Sandian. But after looking back at what we have accomplished, he said it is almost impossible not to be optimistic about the Labs' future outlook.
"We have a workforce that will move heaven and earth to get us where we need to go. The COVID-19 pandemic is a stellar example of the Labs once again stepping up to do something that seemed impossible at the outset. But we made it happen the very next week," Andy said.
"Our motto is 'exceptional service in the national interest,' and we live up to that on a daily basis," he continued. "So be proud and enjoy riding this freight train of positive momentum at the Labs. If there's ever a day where you feel a little unsteady, look around you, talk to some of your friends and learn about some of the accomplishments happening across the Labs. You can be confident that Sandia is strong, headed in a great direction and a leader in national security for our country — and that we will continue to be so into the future."