Labs highlights AAPI contributions
Eight people had been killed in a shooting spree at three Atlanta-area spas, six of them Asian women. It was the latest in a sinister trend that saw anti-Asian hate crimes rise by nearly 150% last year, according to a recent academic analysis.
Sandia engineer Cliff Ho recalled predicting this tragic wave a year earlier. He was put on alert by the rise in anti-Asian rhetoric that coincided with the rise of COVID-19 cases.
"I warned my family in March of last year," Cliff recounted. "I said, 'This is really dangerous.'"
Disturbed but sadly unsurprised by the violence, what struck Cliff following the March 16 attack was the response from those around him.
"I saw (anti-Asian violence) coming," said Cliff. "So, for me, how I felt when I saw the reaction of the community was positive. To see that kind of stand against Asian hate was uplifting for me."
Director listens to resource groups
Less than a week after the attacks, Labs Director James Peery convened a listening session attended virtually by members of Sandia's Asian Leadership and Outreach Committee (ALOC) and Asian Pacific Leadership Committee (APLC), employee resource groups in Albuquerque and Livermore, respectively.
"I appreciated that James took his time to listen, understand and hear what we are going through — to make us feel equal," said APLC Chair Brian Duong. "I think that's very important right now. People feel hurt, feel vulnerable. We need a lot of support from others and, as a community, to not feel alone."
Among the suggestions raised during that listening session were that the Lab News highlight contributions to Sandia's research mission by Asian American and Pacific Islander staff.
"Sandia AAPI staff have demonstrated high achievement for a long time," said Hongyou Fan, who suggested the article.
Importance of recognizing contributions
"There are many different ethnicities in this wonderful country," said ALOC chair Tian Ma, "and I believe it is important for us to recognize the contributions we all provide."
To that end, Lab News is celebrating May's AAPI Heritage Month by highlighting some of the work AAPI staff members have done to benefit Sandia, their country and their community.
APLC member Ninaad Desai expressed hope that bringing attention to these contributions might dispel misconceptions.
"In the current strenuous times, highlighting contributions of Sandia's AAPI staff will prove our solidarity," said Ninaad. "The effort of working towards a common goal to protect our nation will show that the violence and mistreatment, germinating due to hatred, is based on misinformation."
Future city event promotes STEM nationally
Tian pointed to the way ALOC helps youth statewide through the annual New Mexico E-Discover Future City Competition. He helped cofound the local event for the national STEM learning program for middle schoolers in 2014, and ALOC continues to sponsor and supply many of the volunteers for the competition. The event continued virtually this year, even amid the pandemic.
"ALOC is a place where Asians in the Labs can come together to give back to the community," said Tian. "Through the Future City Competition, we are able to help the students in our city be challenged and motivated in the STEM area. We love to mentor and help these students have an opportunity to experience a national, science-based project."
Inclusive culture key to AAPI support
Others pointed to Sandia's inclusive culture as a key source of support for the achievements of AAPI staff.
"I have found in my 28 years here that Sandia does a great job of promoting contributions of all employees," said Cliff. "From a professional standpoint, I haven't been treated any differently, and that has allowed me to thrive. I appreciate the leadership's concern and support over Asian-hate issues. I think it's been really helpful."
"I immigrated to this country at the age of 11," said Tian. "I truly believe no matter what your background or skin color is, we are all able to work together because we share a common goal: strive to give our best to the Labs."
Asian-American, Pacific Islanders in Sandia News
By no means comprehensive, here is a sampling of less than five years of recent, significant research contributions and achievements from AAPI Sandia staff.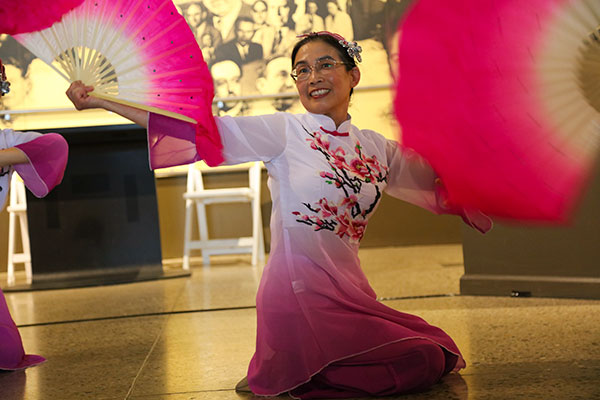 ANNUAL CELEBRATION — Performers take part in the 2019 Asian American and Pacific Islander Heritage Festival at the National Museum of Nuclear Science and History. (Photos by Lonnie Anderson)