Six burning questions for internationally recognized Sandia fire expert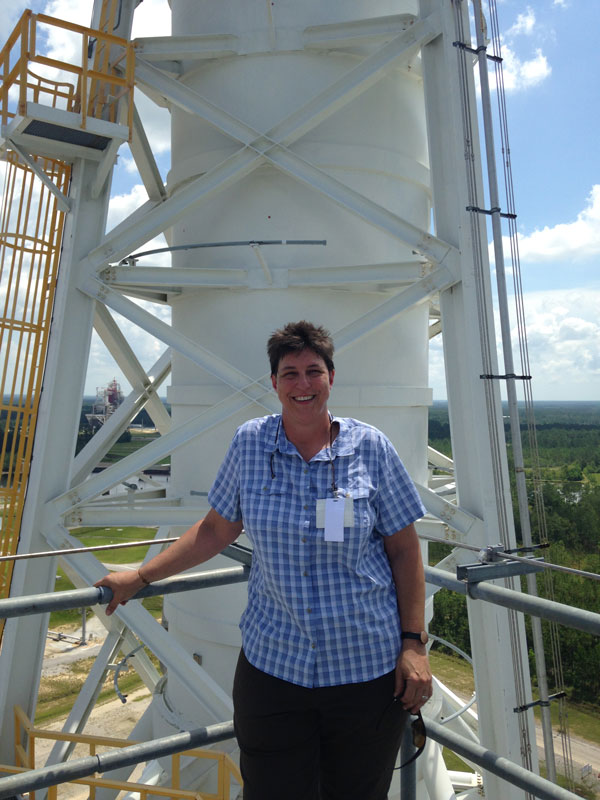 Sandia engineer Chris LaFleur is an internationally recognized expert in fire risk and is responsible for the Labs' fire risk program. She leads a team of experts that evaluates fire risks associated with hydrogen, nuclear and other emerging technologies. She has been recognized for her achievements by DOE's Women @ Energy: STEM Rising website, which honors women in STEM fields throughout the DOE complex.
In 2017, Chris was one of 10 recipients who earned a Clean Energy Education & Empowerment Award from the Women in Clean Energy Symposium, in partnership with the MIT Energy Initiative and Stanford University's Precourt Institute for Energy.
Chris has a bachelor's degree in geology and mechanical engineering from the University of Rochester, a master's degree in fire protection engineering from the University of Maryland, and a doctorate in manufacturing engineering from the University of Michigan. She is a licensed professional engineer and serves as chair of the National Fire Protection Association 2, Hydrogen Technologies Code, and as a principal member of the sprinkler discharge criteria committee of NFPA 13, Standard for the Installation of Sprinkler Systems. She also serves on the Hydrogen Safety Panel under the American Institute of Chemical Engineers Center for Hydrogen Safety.
Chris recently was interviewed for her feature spot on the DOE Women @ Energy website.
Describe your current role at Sandia. What is the main purpose and mission of your work?
I lead a team of engineers who conduct fire risk analyses for emerging technologies. This work allows us to examine new technologies like hydrogen-fuel-cell vehicles, airplanes and trains to identify risks and hazards so they can be engineered to be as safe as possible. This enables these new technologies to be developed and reduce carbon emissions, as well as reduce our reliance on fossil energy.
What inspired you to work in STEM?
I have always wanted to be an engineer because I love solving problems, and I wanted to work on problems that are important, like enabling energy solutions.
What excites you about your work at DOE?
Hydrogen-fuel-cell vehicles are really exciting to me because they eliminate the pollutants from combustion-based transportation modes.
How can our country engage more women, girls and other underrepresented groups in STEM?
Make women doing this work more visible. If younger kids don't know that this work exists and that women are succeeding at it, they won't do it.
What tips do you have for someone looking to enter your field of work?
Find your niche. Mine is fire protection engineering. Become an expert in it, then branch out to get some breadth of knowledge. That makes you more successful, no matter what topic you study.
>When you have free time, what are your hobbies?
I am a woodworker. I make furniture, turn bowls and pens and have recently started hand-carving wooden spoons. I also have a new puppy that I am training.