Using CO2 to streamline production of ethanol
Carbon dioxide (CO2), a major greenhouse gas, is typically considered a problem. However, researchers at Sandia are using it as a solution to address significant obstacles to expanding the market for biofuels: efficiency and cost. When added during the deconstruction phase of biofuel production, CO2 gas neutralizes the toxicity of ionic liquids.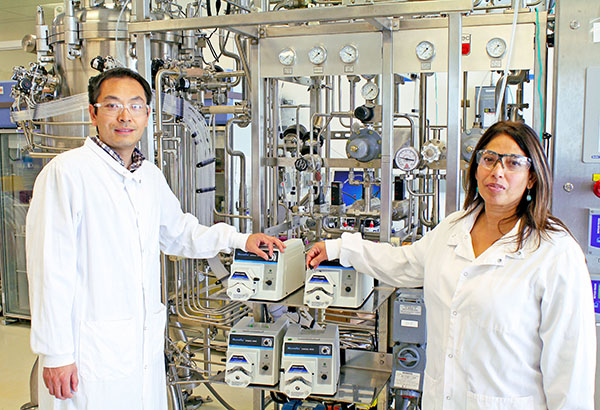 Working at the DOE-funded Joint BioEnergy Institute (JBEI), the researchers discovered that adding CO2, generated during the fermentation process of cellulosic ethanol, to the pretreatment step could lower production costs by 50 to 65 percent compared with conventional ionic liquid-based pretreatment methods and overall make the process greener, according to the researchers.
The study, "CO2 enabled process integration for the production of cellulosic ethanol using bionic liquids," was published in July's issue of the journal Energy and Environmental Sciences. Seema Singh (8624), director of Biomass Pretreatment at JBEI, led the research.
"Pretreatment is the most expensive part of the biofuels production process, second only to the cost of growing and obtaining the feedstock itself," she says.
Recently developed renewable ionic liquids or "bionic liquids," help overcome the challenges associated with the integration of pretreatment unit operation with downstream saccharification and fermentation. The study shows that the most effective bionic liquids known to date for biomass pretreatment form extremely basic pH solutions in the presence of water, and therefore require neutralization before the pH range is acceptable for the enzymes and microbes used to complete the biomass conversion process.
Jian Sun (8624), first author of the paper, says that microbes generate carbon dioxide as a byproduct of fermentation, so harnessing that gas for use in the pretreatment phase leads to an even greener source of energy. Since ionic liquids interact strongly with CO2 and in the presence of water, amine group of the ionic liquid becomes protonated; adding CO2 into IL in the presence of water leads to acidification of the system, adds Singh.
Screening ionic liquid
As part of the research, 15 types of ionic liquid at various concentrations were screened. Cholinium lysinate was determined to be the most compatible solvent with commercially available enzyme mixtures and fermentation hosts. Researchers also conducted tests with various concentrations and pressures of carbon dioxide.
Applying up to 145 pounds per square inch of carbon dioxide to the system shifted the pH to a range that was optimal for the enzymes and microbes. Following the application of carbon dioxide to the system, researchers were able to get more than 83 percent of the theoretical yield of ethanol from the glucose initially present in biomass.
Seema says this novel strategy to overcome pH mismatch of unit operations eliminates costly separation steps, making the ionic liquid-based one-pot process industrially viable. The next step is to modify this process for advanced biofuels and applicable to a variety of other industrial fermentation hosts.