Sandia retiree helps set up pop-up animal shelters during disasters
From hamsters to horses, billy goats to bunnies
When residents of Amador County, a rural community east of Sacramento, saw a black column of smoke on the horizon, their first thoughts were likely of evacuation. But when Jon Baldwin (8247) saw that same column of smoke, his mind immediately went to how quickly he could set up horse stalls inside the Amador County Fairgrounds.
On Sept. 9, 2015, a power line hit a pine tree and started the Butte Fire, one of the most catastrophic wildfires in the history of Amador County and California. When the fire began, Jon was in an outdoor training session for volunteers with the Amador County Animal Response Team (ACART) — an all-volunteer emergency animal shelter group.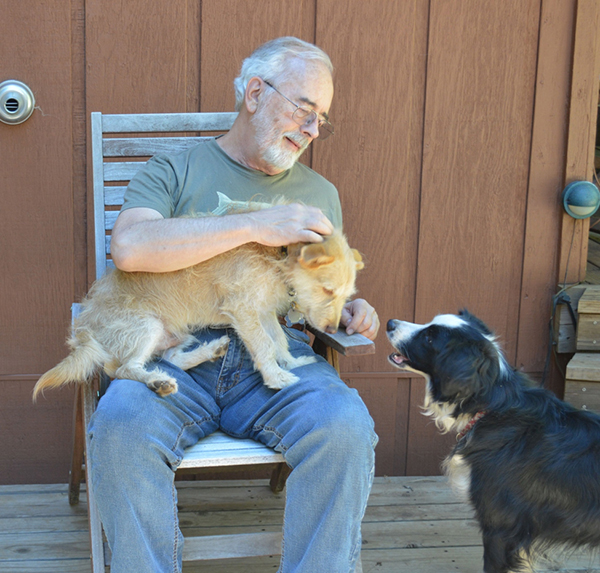 Jon and the other volunteers recognized the impending fire and made their way to the Amador County Fairgrounds to set up the emergency animal shelter. By the end of the day, they stood ready to accept the animals that would be displaced by the Butte Fire.
Putting to use his animal expertise
In 1980, Jon and his wife Marilyn moved from Idaho to the Bay Area when Marilyn started attending law school. When Jon began his work at Sandia, they wanted to settle in an area that would provide the natural beauty and peace they enjoyed in Idaho, but would be close enough to Livermore to allow Jon to work at Sandia. Amador County offered the best of both worlds and has been their home ever since.
During the work week, Jon stayed in Livermore and worked at Sandia as an engineer in the dimensional metrology laboratory and then as a weapons systems engineer for the W80 and W87 projects. In 2010, he retired and sought opportunities to become involved in his home community of Amador County.
Jon's friends, knowing his love of animals, tipped him off to ACART. Jon was instantly drawn to the group's impact on the lives of residents affected by disasters.
In 2013, he became the organization's vice president, a role that requires him to be everything from webmaster to recruiter to fundraiser during downtimes. During crises such as large wildfires, Jon spends his waking hours helping supervise shelter operations and the intake and care of hundreds of animals.
Sheltering everything from hamsters to horses
Over the 13 days of the Butte Fire operations, Jon and other volunteers oversaw the check-in and processing of 450 animals and the general operations of the 24/7 animal shelter. Their familiarity with nearly every type of animal in the county has served them well.
"Ever since I was little, I've had everything from dogs to cattle," Jon says. "I've been a lifelong animal lover."
When ACART is activated and the emergency shelter opens, Jon never quite knows what is going to come through the fairground gates.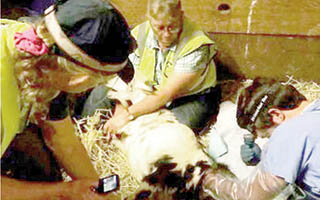 "The most unusual animal we've ever seen was the 600-pound hog that a family brought in. It was a family pet, just like a dog," Jon says. "That and the goat that gave birth at the shelter."
In the midst of the Butte Fire operation, Jon and his volunteers, supported by local veterinarians, found themselves delivering and caring for newborn goats, or kids. The reunion between the goats and their human family was one of the most emotional that Jon has ever witnessed.
Seeing the best in people during the worst
When families arrive at the ACART shelter to drop off their animals, they are often at their most emotional, Jon says. Non-service animals are not allowed at human disaster shelters, forcing many people to part with their animals at ACART before heading to temporary lodging. However, Jon says he often sees the best in people during these times of extreme stress.
"I'm amazed at the variety of people and attitudes. The people you think would be at the end of their rope are often the most collected," he recalls. "One family was so appreciative that they bought pizza for our entire crew."
Jon is also regularly amazed by how much others rally around ACART and the displaced animals. Businesses and organizations from Amador County and beyond regularly donate much-needed supplies during emergency operations. When ACART finds itself with too many animals or too few resources, animal rescue and shelter groups from neighboring counties donate goods or take in animals themselves.
You don't have to live in a rural area to be impacted by natural or man-made disasters. Jon recommends that all pet and animal owners prepare now for the unexpected.
"Make a 'go-kit' for your animals so that when disaster strikes you are ready to evacuate," Jon recommends. "Make prior arrangements with people you know to house your animals in case of emergency. Shelters like ours should be your last resort."
For more information on what to pack in a go-kit and how to prepare for caring for your animal friends in an emergency, check out the "Be Prepared" section of ACART's website at www.amadoranimalresponse.org.