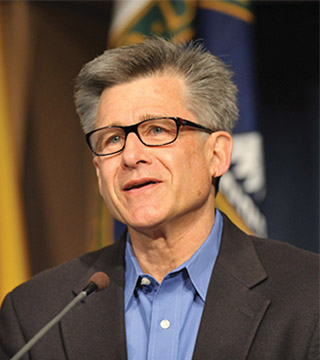 Sandia researcher and University of New Mexico professor Jeff Brinker is among 168 distinguished innovators from around the world announced as 2015 Fellows by the National Academy of Inventors.
Election and induction into NAI Fellow Program is considered a high professional distinction among academic inventors who have demonstrated a highly prolific spirit of innovation in creating or facilitating outstanding inventions that have made a tangible impact on quality of life, economic development, and the welfare of society.
Jeff, a Sandia Fellow, UNM Regent's and Distinguished Professor of Chemical and Nuclear Engineering and member of UNM's cancer center, was nominated by the STC.UNM board of directors for this national honor.
"Dr. Brinker is an outstanding scientist and inventor who is internationally known for his innovative technologies in advanced materials and who has pioneered the field of sol-gel processing. His nanoparticle technologies, engineering marvels, have a broad range of applications, but none more compelling than in the field of medicine," STC.UNM CEO Lisa Kuuttila says.
Jeff also received the 2015 Innovation Fellow Award as a top innovator at UNM. Sandia's Tribal Energy Program Lead, who also serves as STC board chair, Sandra Begay-Campbell says Jeff was recognized as a result of his achievements in developing new technologies and receiving a large number of patents that generated significant commercialization activities from licenses and the formation of new companies.
Internationally known for his work in advanced materials, Jeff has pioneered sol-gel processing, a method for making inorganic materials molecule-by-molecule. Over the past two decades his research team has developed self-assembly (wherein molecules spontaneously organize into nanostructures) as a robust and efficient means to create porous and composite thin film and particulate nanostructures with optimized properties and/or complex functionalities.
Jeff is able to translate the properties of nature into new materials that are technology innovations. His inventions combine advanced materials science and biology to produce innovative membranes, sensors, thin films, and nanoparticles that are having a far-reaching impact on cancer treatment, environmental remediation and protection, and low-cost, green materials for industrial processes.
Jeff will be inducted as an NAI Fellow on April 15 as part of the NAI Fifth Annual Conference at the US Patent and Trademark Office (USPTO) in Alexandria, Virginia.
Jeff has won six R&D 100 awards and was presented with the UNM Presidential Award of Distinction by university president Robert Frank at the Dec. 11 fall commencement ceremony.