Todd Dunivan wins NM Distinguished Public Service Award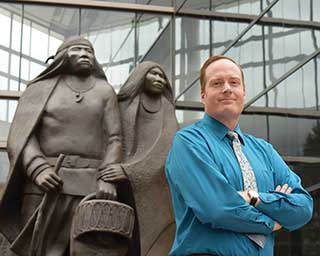 Todd Dunivan, manager of Div. 3000 Business Operations Dept. 10593, is one of 11 individuals from around the state selected to receive a 2015 New Mexico Distinguished Public Service Award.
The award, established in 1969, honors career civil servants for significant contributions to public agencies and to the state and community in which they live. Employees of New Mexico's national laboratories are specifically among those eligible for the award.
Todd was recognized for notable and innovative accomplishments in a variety of business operations at Sandia and for his involvement in a wide range of community activities, especially those related to Native American outreach and education initiatives. He credits the environment and culture at Sandia as contributing to his success.
"Sandia is an incredible place to work and I have been honored to be a part of what we do," Todd says. "Sandia is all about service to the nation; service to the community is simply an extension of that."
Todd and the other recipients will be honored at a banquet on Nov. 11 hosted by Gov. Susana Martinez, co-chair of the awards program. Regarding this year's recipients, the governor said, "Every year, we're proud to honor New Mexicans who raise the bar for excellence in public service. Through their leadership, service, and accomplishments, this year's recipients serve as proud examples of what you can accomplish when you devote yourself to making New Mexico a better place to live, work, and raise a family."
Todd, who is of Lakota American Indian heritage, says being elected to the chair position of the American Indian Outreach Committee at Sandia "was a special honor that opened up new opportunities for me to engage with the community through our outreach programs."
Todd came to the Labs in January 2000 after several years as assistant VP in international banking at First Security Bank and having been an adjunct faculty member teaching international management at the University of New Mexico.
When he was growing up, Todd's family moved often. He was born in Portales and raised in New Mexico, Kansas, and California. He ended up staying in Albuquerque, where his extended family lived, and earned an undergraduate degree in political science from the University of New Mexico. He subsequently earned an MBA at UNM and an MS in International Relations at Troy University.
International engagement
It was that interest in international relations that originally brought Todd to Sandia. "Like many Sandians," he says, "the decision to come here was all about the mission. I initially came because of a job opening allowing me to negotiate US national security contracts in Russia. That work was an outstanding opportunity and I have found a number of additional opportunities at Sandia since then that also have allowed me to contribute to the nation."
In his nearly 16 years at the Labs, Todd has had an impact in several areas. He led the successful transition of Sandia's multi-billion dollar banking relationship, a move, he says "that has resulted in significant cost savings to the American taxpayer while maintaining or increasing our service level." He also introduced an innovative model for American Indian/Alaska Native recruiting during his tenure as chair of Sandia's American Indian Outreach Committee.
Todd's contributions to mission success at Sandia have not gone unnoticed. Among his many work-related honors, he is a recipient of Lockheed Martin's "Straight to the Top" award and its "Global Supply Chain Leadership" award. A graduate of the prestigious Leadership Albuquerque class, Todd also led the successful ISO 9000 certification effort for Sandia's procurement organizations.
Todd throughout his career has been deeply involved in the community. Many of his activities have focused on the needs of American Indians and Alaska Natives both at Sandia and in the larger community, with a special emphasis on educational outreach, encouraging native youth to pursue opportunities in science and engineering. A regular participant in Sandia's Make a Difference Day activities, Todd has also been involved in volunteering at the Ronald McDonald House, the Roadrunner Food Bank, UNICEF, AYSO, the Boy Scouts of America, and other organizations. He is active in his church as well.
Todd says that as a Roman Catholic, "Jesus Christ is my ultimate inspiration for public service and community service." He says he hopes that through his community activities he can inspire self-confidence and aspiration among young people and inspire hope in the lives of those down on their luck.
"Receiving the New Mexico Public Service Award is a tremendous honor," Todd says, "an affirmation of what I have always striven for: to make a positive difference both at work and in the community. I am deeply moved to be a recipient of this award."