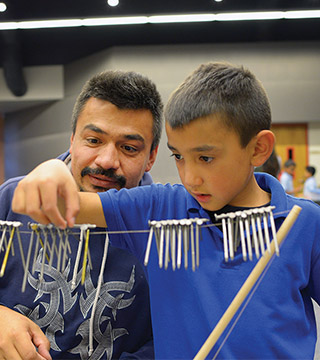 Before he took an entrepreneurial separation from MEMS Technologies Dept. 1719 in February, Jose Luis Cruz-Campa was an active member of Sandia's volunteer community.
Having a father who was an electrical engineer sparked Jose Luis's interest in science, technology, engineering, and math (STEM) when he was a child. Recognizing the importance of that early influence, Jose Luis frequently shares his time, enthusiasm, and expertise with local kids in the hope that they will pursue STEM studies and careers.
Jose Luis's latest volunteer activity involved introducing children in grades four through eight to STEM concepts in a series of workshops conducted in Spanish.
Sandia sponsored Explora Ingeniería (Explore Engineering), a pilot program launched last fall, in collaboration with the ¡Explora! Science Center and Children's Museum and the nonprofit organization Partnership for Community Action (PCA).
"The best part of the program, for me, was not only teaching the kids about science, but teaching them science in Spanish. I feel I am helping the students as a role model and showing them careers they might not be exposed to otherwise," says Jose Luis, who recently won the Outstanding Engineer Award from the Region 6 Southwest Area chapter of the Institute of Electrical and Electronics Engineers.
A new adventure each week
With the guidance of Jose Luis and Andres Barrera Guerrero, an ¡Explora! educator and facilitator, the students explored topics such as kinetic and potential energy, electromagnetics, chemistry, and structural engineering in weekly sessions at the Alamosa Community Center in southwest Albuquerque. Many of the kids' parents attended the workshops too.
"Sometimes it makes more sense for a student who speaks Spanish at home to also hear about something cool in Spanish. For Spanish speakers, it's like you are one person when you speak English, and that's the school world. And you speak Spanish when you are at home, and that's family. It's like two different worlds, and then when you mix them, academics is family too. That's the way I feel it, and that's why it was important for me," Jose Luis says.
Each session featured a different theme and a hands-on activity to reinforce the lesson. When the students learned about structural engineering, for example, they built structures from Popsicle sticks and experimented with various building profiles and environmental conditions, such as a vibration table to simulate an earthquake and a powerful fan to simulate a hurricane. The students also learned how elementary machines make work easier, constructed simple motors and then tested modifications for increased output, and manipulated gears to calculate the ratios governing transfer of power in a machine.
Jose Luis helped conduct the workshops, leading the children and their parents through the activities designed by Barrera Guerrero. Instead of teaching the concepts through lectures, the two opted for an inquiry-based format, asking the children questions and prompting them to think about alternative approaches to the activities instead of immediately providing solutions when they encountered challenges.
"At ¡Explora!, we teach science in a different way; we let the kids make their own discoveries. We are the Jedi of education," says Barrera Guerrero.
PCA, which offers programs to strengthen New Mexico families through education, and health and economic opportunity, selected the children for Explora Ingeniería from families that participate in PCA's advocacy programs.
Mayra Acevedo, PCA operations manager, says, "This program has truly benefitted the kids and their families. They keep coming back and learning new concepts, taking them home, and continuing the learning at home. These parents are engaged, and this is a healthy way to introduce science and to build family relationships."
More than a STEM program
In addition to providing experiences designed to build the kids' interest and competence in STEM, Explora Ingeniería also carried a meaningful message.
Jose Luis and Barrera Guerrero would wrap up each week's workshop with a discussion of characteristics that lead to academic and professional success, with the aim of motivating kids to set goals and cultivate the traits — such as resilience, perseverance, and dedication — that will help them achieve those goals.
To teach the kids about perseverance, for example, they used examples the kids could relate to. "When you play video games, how many times do you have to play them to win? It's the same with science, with your job, and with school — perseverance guarantees you succeed. You should know that within you, you can get it done," Jose Luis says.