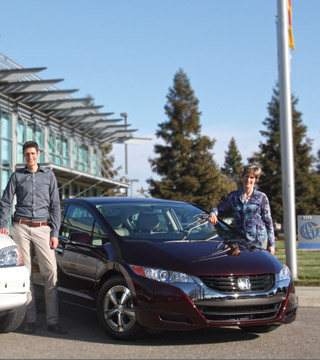 Sandia won four regional awards from the Federal Laboratory Consortium (FLC) for its work to develop and commercialize innovative technologies.
The Far West/Mid-Continent Region awards honored:
New Mexico Small Business Assistance (NMSBA) program as a Notable State and Local Government Collaboration;
Mantevo software, which recently won an R&D 100 Award, for Excellence in Technology Transfer;
Nano-Stabilized Enzymatic Membrane for CO2 Capture as a Notable Technology Development;
H2FIRST, an effort to build the number of fueling stations for hydrogen cell electric vehicles, as the Outstanding Regional Partnership, involving Sandia and the National Renewable Energy Laboratory, California Fuel Cell Partnership, California Governor's Office of Business and Economic Development, and California Air Resources Board.
"Sandia is proud of our work in technology development, technology transfer, and partnerships," says Jackie Kerby Moore, manager of Technology and Economic Development Dept. 7933 and Sandia's representative to the FLC. "We are truly honored to be recognized, alongside our partners, for our work in these areas."
Here are the four Sandia winners:
NMSBA: A helping hand to small business
Some 354 small businesses in 29 counties participated last year in NMSBA, a public-private partnership among Sandia, Los Alamos National Laboratory, and the state of New Mexico that connects small business owners with scientists and engineers who provide technical assistance. The program also contracts with the New Mexico Manufacturing Extension Partnership, University of New Mexico Management of Technology program at the Anderson School of Management, Arrowhead Center at New Mexico State University, and New Mexico Tech Department of Management. NMSBA provided $4.6 million worth of assistance to New Mexico small businesses last year.
"NMSBA has been bringing small businesses together with scientists and engineers from Sandia and Los Alamos national laboratories for 14 years. We are grateful to the principal investigators who work with New Mexico's small businesses," Jackie says. "Together they are implementing innovative ideas and stimulating our state's economy."
NMSBA was created in 2000 by the state legislature to bring national laboratory technology and expertise to small businesses in New Mexico, promoting economic development with an emphasis on rural areas. Since its inception, the program has provided 2,195 small businesses in all 33 New Mexico counties with more than $39 million worth of research hours and materials.
Mantevo: Next-generation computing
Mantevo is an integrated collection of small software programs, or miniapps, that model the performance of full-scale applications yet require code a fraction the size of the full application. They were designed to improve high-performance computing.
The Mantevo project, which grew out of Laboratory Directed Research and Development (LDRD) and won a 2013 R&D 100 award, pioneered the miniapp concept. Mantevo Suite 1.0 is the first integrated collection of full-featured miniapps.
Mantevo provides rapid exploration of the design space for new supercomputers and applications. It speeds research in today's co-design model of collaborative computer development, where designers work together simultaneously on hardware and software. It is a critical tool that impacts business, science, and national security.
Sandia brought the Mantevo miniapps together and made them freely available as an open-source software package. Every major computer vendor and dozens of university research teams use Mantevo to design next generation systems and tools.
The work was done in collaboration with, among others, Los Alamos and Lawrence Livermore national laboratories and Santa Clara-based NVIDIA Corp.
"Things are changing rapidly in the computing industry," says Mike Heroux (1426), co-lead on the project with Richard Barrett (1423). "It is very satisfying that the work is having an impact on the design and development of new computing systems and applications."
CO2 Capture: Better way to keep emissions at bay
Electricity-generating plants, especially coal-fired, and other industrial activities that generate CO2 face new US Environmental Protection Agency regulations limiting emissions.
Nano-stabilized enzymatic membranes for CO2 capture provide a simple, compact, and more energy-efficient approach to capture than conventional methods. The process removes 90 percent of the CO2 in emitted gas mixtures and is expected to save the US coal industry alone $90 billion a year.
Enzymatic membranes also separate CO2 from gas mixtures faster and more selectively than other membranes. The enzymatic membrane technology uses computational modeling to design and nanofabrication techniques to synthesize membranes with thin, narrow, and airtight liquid layers. By embedding an enzyme that converts CO2 gas into a more soluble form, the liquid-layered membrane efficiently captures CO2 from power plant flue gas. The fabrication process can be inexpensively scaled-up. The robust and inexpensive enzyme is already used at industrial scales.
The CO2 capture process evolved from Sandia's LDRD program. Team members included Susan Rempe (8635), Juan Vanegas (8635), and Jeff Brinker (1000).
"With the growing concern about global warming caused by greenhouse gas emissions, there is an immediate and urgent need for efficient CO2 capture and reuse in other applications such as enhanced oil recovery," Susan says. "It is gratifying to be recognized by the FLC for our Sandia-UNM team's efforts to provide a solution to CO2 capture that works within the framework of the US coal industry."
H2FIRST: Places to refuel hydrogen cell electric cars
As hydrogen fuel cell vehicles continue to roll out in increasing numbers, the infrastructure for fueling them must expand as well. A project launched by DOE and led by Sandia and the National Renewable Energy Laboratory (NREL) will work in support of H2USA, the public private partnership introduced in 2013 by the Energy Department and industry stakeholders to address the challenge of hydrogen infrastructure.
Established by the DOE's Fuel Cell Technologies Office in the Office of Energy Efficiency and Renewable Energy, the Hydrogen Fueling Infrastructure Research and Station Technology (H2FIRST) project will draw on existing and emerging core capabilities at the national labs to reduce the cost and time of new fueling station construction and improve the stations' availability and reliability. The partners include several agencies from the state of California, widely regarded as the nation's epicenter of zero-emission vehicles.
The goal is to accelerate and support the widespread deployment of hydrogen fuel cell electric vehicles. Toyota recently announced it will begin selling its fuel cell vehicle in 2015. General Motors and Honda have announced plans to jointly develop hydrogen fuel cell cars, and Hyundai will lease its Tucson Fuel Cell hydrogen-powered vehicle in California.
"The success of hydrogen fuel cell electric vehicles largely depends on more stations being available, including in neighborhoods and at work, so drivers can easily refuel," says Daniel Dedrick (8367), hydrogen program manager at Sandia. "With H2FIRST, we're definitely on the road to making that happen more quickly."