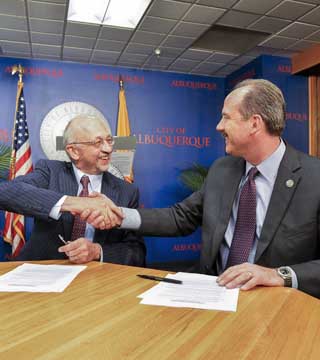 Sandia has renewed a Memorandum of Understanding (MOU) that sets out a variety of ways the Labs can work with the city of Albuquerque. "This MOU is a well-defined vehicle to maximize our impact on the local economy," Labs Director Paul Hommert said at the MOU signing earlier this month.
The new three-year MOU will allow the city and Sandia to formally collaborate on projects such as energy infrastructure, advanced manufacturing, technology development, entrepreneurial growth, business assistance, telecommunications, cybersecurity, and computer modeling and simulation.
"This is an opportunity to strengthen an already strong relationship," Mayor Richard Berry said at the signing. "Sandia National Labs and the city of Albuquerque share a number of interests. This is good news for the community."
The MOU says Sandia and the city share goals including public safety and regional economic development, and that collaborative efforts on specific projects and technical issues will advance their respective interests.
"The city will benefit from Sandia's technical expertise and Sandia will benefit from access to the local community as a resource and problem-solving model," the MOU states.
Berry said he has enjoyed working with Paul as a friend and mentor. He said the city has used Sandia expertise on its information technology systems, engineering challenges, and in other areas.
"We have a lot of things to work on, a broad scope of issues," Berry said. "An important area is commercialization of research. We want to make Albuquerque a center of expertise in tech transfer. We are really, really fortunate to have Sandia as a partner."
Paul said tech transfer and commercialization are key missions of the Labs. "We are putting a lot of thought and effort into this," he said.
He said the MOU will make the city a better place for Sandians to live. "The city is home to a vast majority of Sandia employees and we want to help it succeed," he said. "We look forward to bringing our expertise to the issues."