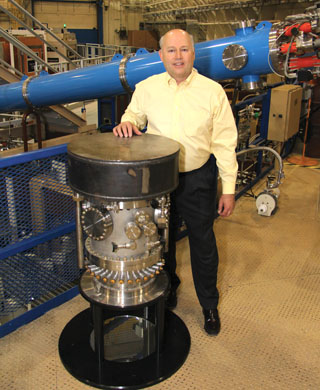 Randy McKee's passion is engineering excellence. "I'm a process guy," he says. "I always put that first in anything I do."
Close behind is a desire to help young people become professional engineers. Randy (1657) has spent countless hours mentoring in minority recruitment, graduate, and undergraduate programs at Sandia. "Connecting back to the community through young people who want to get into science fields is important to me," he says.
In recognition of his technical excellence and community service, Randy was named 2014 Professional of the Year by the American Indian Science and Engineering Society (AISES). He is being honored at the organization's national conference in Denver this week.
Since 1977, AISES has worked to increase American Indian and Alaska Native representation in science, technology,
engineering, and math (STEM) fields as students, professionals, mentors, and leaders. The group supports and provides STEM educational services at all levels through graduate school. It also offers professional development, mentoring, networking, community service, and awards programs.
"It was very humbling to be recognized. I'm honored," says Randy, a member of the Cherokee Nation. "The competition is steep, and Sandia gave me the advantage. I've had great mentors and peers who have helped me along the way. Reaching up for help is as important as reaching back and giving help. I wouldn't be here without guidance and mentorship from Keith Matzen (director of Nuclear Weapons Science & Technology Programs Center 1200) and John Porter (manager of Laser Operations & Engineering Dept. 1682)."
Robotics at Sandia and LANL
Randy's family moved from Oklahoma to Albuquerque, where Randy earned a bachelor's degree in mechanical engineering and a master's in business administration from the University of New Mexico. He joined Sandia in 1991 as a contractor in the robotics center and was hired in 1995 as a principal member of Laboratory staff. He worked with Los Alamos National Laboratory in nuclear materials handling using robotics.
In 2000, Randy left Sandia to start the manufacturing division of Ktech Corp., a high-tech engineering firm in the Sandia Science & Technology Park. "Ktech is closely tied to Sandia, and I did contracting back into the Labs," Randy says.
He returned to Sandia in 2003 as a pulsed power manufacturing engineer and was promoted within six months to manager of Pulsed Power Engineering Dept. 1657. "Sandia offers lots of opportunities to succeed and be really challenged," Randy says. "It's very difficult work with great rewards and significant impact on the weapons and energy sectors. The Z machine is a fantastic place to be with its significant engineering, manufacturing, and operations challenges. Engineering excellence is required with all we do here."
Randy says one-on-one mentoring can make the difference in a young person's career. "I spend a lot of time really helping them find their way into advanced technical degrees," he says. "It's great to see young minds grow into mature scientists over a period of three to five years. They come in as freshmen, doe-eyed and looking at a world of science they can't comprehend. By the time they leave they can function in a technical environment."
Much of his effort has been directed to student interns from minority-focused colleges such as North Carolina A&T State University, working with recruiter Ken Holley (35553). "We create an environment at Sandia that keeps them focused on STEM and advanced degrees," Randy says. "Most of them go on to master's degrees and PhDs. Some come back to Sandia and others go out and work at other places. They have been very successful, and that's the important thing.
"I tell them that if they want a challenging and rewarding career, STEM will always provide that."
AISES is the only professional society established by and for American Indian and Alaska Natives that specifically emphasizes lifelong learning and education achievement using cultural aspects with STEM. More than 200 tribal nations are represented within AISES.
Randy says mentoring is critical to building staff in STEM fields. "We need new people coming in so we can sustain the national position Sandia holds," he says. "Young people are very important. Developing a pipeline of diverse talent is key to our success."