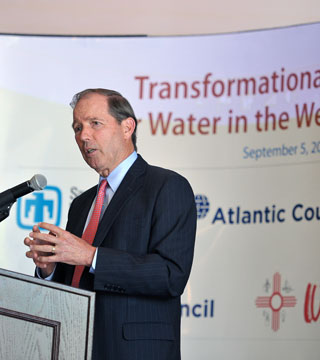 The day-long talks and panel sessions on "Transformational Solutions for Water in the West" roundtable, sponsored by Sandia and two other agencies, did not come up with a dramatic, save-the-day answer to the persistent problem of overuse of a diminishing amount of potable water in the American Southwest. But the talks, moderated by Marianne Walck, director of Geoscience, Climate and Consequence Effects Center 6900, and Rob Leland, 1000 director, did reveal a number of partial solutions already in use that, if widely adopted, could make a significant dent in the widely recognized problem.
"There is no silver bullet, but there is silver buckshot," commented Carlee Brown, policy manager of the Western Governors' Association on Water and Wildlife.
The scope of the issue was delineated by Howard Passell (6926) in an opening talk.
"The question is," he summarized, "are there
game-changing transformational solutions that don't just shift the [water-supply] gap; or is it a zero sum game involving an increasing population consuming ever-larger amounts of a shrinking resource?"
Conservation's role
Presenting a calming view was John Entsminger of the Southern Nevada Water Authority, who said it was clear that increased population growth "doesn't necessarily track with increased water use." He cited a 33 percent drop in water use in some Southwestern areas, due to active (though costly) conservation.
Further words of comfort came from Ben Ruddell, a professor at Arizona State University. Answering audience suggestions that water pipes be constructed and placed parallel to oil pipes entering the US from Alberta, Canada, or extend to the Southwest from the Mississippi, Ruddell said that "virtual water" transfer was already in effect in terms of fruits and vegetables grown elsewhere and sent to the Southwest. In this virtual pipeline, water is pre-used, in effect, to grow plants that are then shipped elsewhere. So, in effect, the national highway system is already transferring water from wet to dry places. "Crops are the biggest source of virtual water," he said, "and virtual water flows uphill to money."
The new accounting, though thought-provoking, doesn't solve the obvious problem of sinking water levels in Southwestern reservoirs.
Less palatable measures were reported to put more water in the taps of several localities: the purification of waste water for reuse as drinking water. The city of Albuquerque already purifies waste water for use on golf courses, but other communities have gone further, said a number of speakers. "People in New Orleans are drinking water estimated to have already passed through eight sets of kidneys," said an audience member.
As unappetizing as that sounds, young people have already accepted the idea of water re-use far more easily than their parents did when it was proposed two decades earlier, said John Stomp, chief operating officer of the Albuquerque/Bernalillo County Water Utility Authority. (A fictional handheld device used to distill potable water from urine in the 1995 movie Waterworld, elicited groans of disgust from an Albuquerque movie audience back then as actor Kevin Costner drank the result.) Stomp also mentioned that "the aquifer was rising under Albuquerque, through three years of the worst drought we've ever seen," because of conservation and diversion efforts.
In a major conservation possibility, Vince Tidwell (6926) said that municipal waste water and brackish groundwater could be substituted for drinking water by retrofitting electrical power generators. His analysis found that more than half the nation's power plants could be retrofitted, increasing power generation costs by less than 10 percent. "Many of these plants are located in the arid western US," he said.
Others preached the benefits of cooperation among water agencies, rather than relying on what Max Yeh, principal researcher of the Percha/Animas Watershed Association, described as a "totally unique system of distributing water"— the Southwest water rights system. Privileges granted earliest users offer no incentives to cooperate or even to accept new users.
Agricultural use 'part of our culture'
But Carlee Brown said, "It's not a simple matter to move agricultural water to satisfy higher-value demand." Agriculture and its attendant water use, she agreed, are 75 to 90 percent of water withdrawals, but "are part of our culture."
The most cost-effective method to deal with a water-shortage problem, she said, involved solving new demands through water transfers. This involves the voluntary sale, lease, or donation of intrastate supplies.
"A water bank can sell or lease water rights for a period of time," she said. "It's already occurring in a voluntary, market-based framework. It's one tool in the tool kit."
Other solutions, she said, lay in finding new supplies, conservation, re-use, or desalination.
One person pointed out that relying on the social mechanism of raising water prices to cut use would mean that poor people drank less water.
Jesse Roach (6926) agreed that employing a number of strategies "helps spread the pain," but he pointed out that "evaporative demands rise with temperature," so that increased evaporation from reservoirs, agriculture, and woodland and streamside areas meant less water available. "Simulations show reservoir levels dropping throughout the system as the impacts of climate change set in."
More water for drier times?
He did offer the hope that the trend toward bigger storms meant that better controls in reservoirs might mean more water stored for later use in dry times.
Audience member Bill Turner, an Albuquerque businessman, told Lab News he had proposed an actual game-changing design to store Elephant Butte water underground, forestalling evaporation, but the plan was rejected by government agencies.
Mike Hightower (6114) said that "the number, size, and severity of forest fires have grown significantly in the US over the past four decades, and winter ablation in burned areas reduces snowpacks by 50 percent." Therefore, he said, "A 10 percent reduction in precipitation equals a 20 percent reduction in runoff in the Southwest."
He pointed out that costs to thin forests can be less than firefighting and damage costs. "If we don't act, we may lose mountain watersheds and have no national forests in 50 years. But we have the technologies to do the necessary forest thinning."
Remarks by Sen. Udall
"The Rio Grande is the only river I've ever seen that needs irrigation," opened keynote speaker Sen. Tom Udall, D-N.M., quoting a line often attributed to Will Rogers. Describing the big river as at times the "Rio Sand," the senator — an ardent conservationist — quoted a study to the effect that the current drought — the worst since the 1950s — combined with climate change could cost the nation a trillion dollars in economic losses. He talked about the need for better coordination among large-scale water users, better sensors to detect water leaks as they happen or even before, and more research to determine the limits to Southwestern population growth. While, he said, most observers believe the era of big government investments in dam building is over, he was co-sponsoring a bill to create a "smart water infrastructure" that would, among other benefits, better monitor stream flow and meter water used by irrigators.