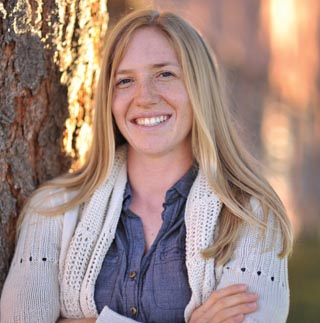 Rachel Kolb has one of those rare resumes for a 22-year-old. She's a National Merit Scholar with a bachelor's degree in English from Stanford University. She's the first Stanford student to twice win the university's distinguished Boothe Prize for essay writing. She was a summer intern four times at Sandia in areas ranging from the Lab News to Strategic Foundations to Surety Engineering. And she's closing in on a master's degree.
Rachel just added another entry: Rhodes Scholar.
She found out two weeks ago she is one of 32 U.S. students chosen for post-graduate study at the University of Oxford in England in 2013 under what is widely considered the world's most prestigious scholarship.
"I was stunned," Rachel (420) says. "I'm also very excited and trying to wrap my mind around everything this means, the whole process, being away from home, keeping that kind of company."
What makes Rachel's accomplishments even more extraordinary is that she was born deaf. She learned to speak through 18 years of intensive weekly speech therapy. And receiving a cochlear implant two years ago has helped her hear better than she could with hearing aids alone. "The challenge is how to use and interpret the sounds," she says.
Rachel is an Albuquerque native. Her parents Bill (6123) and Irene (2992) Kolb have worked at Sandia since the early 1980s. Rachel graduated in 2008 from Albuquerque Academy and entered Stanford, where she earned a bachelor's degree this year and will complete a master's, also in English, next June.
Rachel wants to be a writer and plans to study contemporary literature and comparative social policy at Oxford, earning a master's degree in each over two years. She loves fiction and nonfiction and hopes to work disability-related issues into her writing. She's also considering work in academia.
"I love reading," she says. "I read the classics and try to keep up with contemporary fiction."
Some favorite authors are Jonathan Franzen, Hilary Mantel, Michael Chabon, Virginia Woolf, William Faulkner, and George Eliot. Her undergraduate thesis was on Charlotte Bronte's Jane Eyre. "I enjoy writers who experiment with the form and with what they can do with their craft," she says.
Rachel is an accomplished horsewoman and president of the Stanford Equestrian Team. She says her connection to horses is one of the most important things in her life. "They allow me to communicate without language," she says. "They take you as you are."
Rachel heads to Oxford next fall. She studied there through Stanford's Bing Overseas Studies Program during her junior year, from October to December 2010. "Being at Oxford made me want to apply for the Rhodes Scholarship," she says. "I enjoyed the one-on-one tutorial system and the intensive focus on individual projects instead of large classes."
"We are so thrilled for her," Irene says. "And to be honest, we feel quite humbled. We are proud of everything Rachel has accomplished."
Rachel's childhood speech therapist advised Irene not to put limits on Rachel. "And we didn't," Irene says. "Look at all the wonderful things she's brought to our lives."
Bill says his daughter's life is packed with scholarly pursuits. "She's always reading, always writing, always responding to people. Her heart is people. She loves being included and inclusive."
Irene says she loves the conversation Rachel brings to the family, which includes another daughter, Leigh, a Pepperdine University sophomore who is studying this year in Switzerland. "Rachel is never at a loss for words at the dinner table no matter what the subject might be," Irene says. "She brings up all types of interesting topics."
Bill and Irene say they'll miss Rachel while she's in England but will visit and talk. "With two kids abroad thank goodness for Skype," Bill says.
He says he knew from the beginning his daughter was special.
"We're blessed to have her," he says. "I'm proud and I'm honored to know her and to have her in my life. She's extraordinary. I've learned more from her than she has from me."