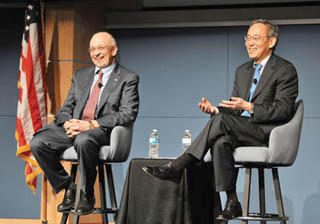 Energy Secretary Steven Chu says it's no accident President Obama in his State of the Union urged the nation to look to the federal laboratories and research universities to create the foundation for future prosperity.
Chu visited Sandia and the University of New Mexico on Jan. 26, touring Sandia's National Solar Thermal Test Facility, and learning about solar glitter, Sunshine to Petrol, and similar projects. At an industrial partnership roundtable Chu heard about the Stingray project, Sandia's partnership with Emcore and other local businesses, and the New Mexico Small Business Assistance Program.
The United States has the greatest research organizations in the world, and Sandia is a critical part of that in nuclear security, environmental innovation, research and development, "and broadly for bringing high-technology manufacturing back to the United States," Chu told a town hall at Sandia's Steve Schiff Auditorium, where every seat was taken. Many who could not be seated stayed to watch a video feed of the event in the lobby, and thousands more watched from their desktops.
The race for the future
Chu's brief visit came two days after the State of the Union, in which the president urged Americans not to let other countries win the race for the future, but rather to "support the same kind of research and innovation that led to the computer chip and the Internet; to new American jobs and new American industries."
Several questions at the town hall echoed those concerns. One questioner told Chu he worried about how national laboratories could recruit talented people when budgets are tight and they're competing against Google and similar innovative companies.
Chu acknowledged Google employees make a lot of money, and that people would not get rich working on nuclear security or solutions to climate change. But he said people at the Labs work on things they really believe in, that are "cool and neat and really important to the United States and the world."
"Think about what you guys are doing," he said. "This is a good thing."
What will keep people at Sandia, or anywhere, is the quality of the teams they work on and "is the problem they're working on exciting, is the work interesting, does the manager shield them from some of the things the DOE tries to make them do?" Chu said.
Reinvest savings in research
The Energy Department, he said, wants to create an atmosphere where people are not "hassled" and where money saved on overhead can be reinvested into science.
"If they're working alone in a basement and all they have is a red stapler, that's not good," he said. After a slight pause, Chu laughed, and suggested the audience see the movie "Office Space."
The secretary said the labs, which he referred to as "intellectual powerhouses," give people freedom to explore, ability to work in cross-disciplinary teams, and time to develop an idea to the point private industry becomes interested.
"Some great achievements come from gradually pecking at it, pecking at it, pecking at it, and improving it," Chu said.
But he warned that a country that invents something does not have a claim on it forever. In the few years between the Wright brothers' flight and World War I, the United States lost its advantage in aviation, and today it's fighting to regain supremacy in the automotive and photovoltaic industries, he said.
He also said national laboratory innovations must get to market. A questioner followed up on that, asking how to move more technology to the commercialization stage.
Get IP to the private sector
While it's important not to give away patents, Chu said, it's also important to get intellectual property to the private sector by streamlining the process and making it more flexible. He also said each tech transfer must be judged on its merits, and that exclusive licenses should not be forbidden because, in many cases without one, no one picks up the patent.
If national laboratories can make tech transfer less of a hassle, "it enables me to go to Congress, and say, 'Hey, we are your financial future; fund us,'" he said.
Responding to a question about how to keep policies from changing with every federal administration, Chu said the President's Council of Advisors on Science and Technology has begun addressing the need for long-term planning through the first quadrennial review of energy technology and how to fund it. The plan is to be reviewed every four years, he said.
"It's going to be the basis going forward," said Chu, who pointed out the timescale to move from one form of energy to another typically runs a couple of decades to half a century.
"You want to have a long-term view," he said. "It's not clear what's actually going to win when it's in a research program."
The secretary urged Sandians to be proud of what they do. "Our country's counting on you guys to pull through on this one," he said, and drew laughter when he added, "And we hope that Congress will also count on you guys to pull through."