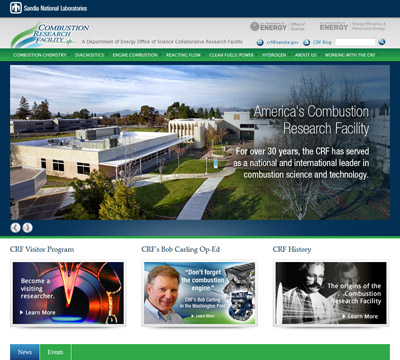 The Combustion Research Facility has launched its new WordPress-based website at crf.sandia.gov. The dramatically redesigned site, sponsored by the Energy, Climate and Infrastructure Security Strategic Management Unit (SMU), embodies the CRF's forward–thinking vision and commitment to the growing needs of the combustion community.
"We launched the refreshed, engaging CRF website to easily deliver information about the collaborative research facility to our customers, sponsors, employees, the media, and many others. Our goal is to place relevant and timely communications at the fingertips of the combustion research community," says Bob Carling, director of Transportation Energy Center 8300.
The site's homepage welcomes visitors with bold new colors, a clean uncluttered design, and moving images with featured content centered on CRF as a premier research facility for developing and applying new scientific understanding, advanced detection methods, and quantitative predictive models to advance the clean, efficient use of energy sources, reduce oil dependence, and enhance national security.
The new site offers:
General information about the CRF, how collaborators can work with the CRF, and in-depth information about the following research areas: combustion chemistry, diagnostics, engine combustion, reacting flow, clean fuels and power, and hydrogen.
Streamlined searching and more intuitive navigation.
Content-sharing enables visitors to share content via their favorite social media outlets.
Direct access to subject matter experts and the CRF Visitors Program.
CRF Blog encourages research staff to post stories and dialog with new audiences.
Rich interactive content engages the user via the video and image libraries and the RSS events calendar.
* * *
The goal of the redesigned website is to create greater awareness and understanding of the CRF and its capabilities, increased collaboration, and partnerships.
"I encourage our customers and partners to get connected through the website — join the CRF Blog for the latest news and watch for the new interactive tour, coming in the New Year," says Bob. "Our anticipation is that this will allow for valuable exchanges of ideas and even greater engagement with the combustion community. This site will continue to evolve; we plan to expand crf.sandia.gov with new features and continued improvements. We look forward to feedback from our users and exciting new developments to come."