The National Cancer Institute recently announced two five-year awards totaling nearly $4 million for a partnership between the University of New Mexico Cancer Center and Sandia. One $1.95 million grant will fund the creation of a joint Cancer Nanotechnology Platform Partnership, and another $1.8 million grant will pay for a new Cancer Nanotechnology Training Center to train a new generation of multidisciplinary scientists. In addition, the State of New Mexico is providing another $2 million to build a lab supporting Sandia Fellow and UNM professor Jeff Brinker's (1002) research, which is devoted to nano-biomaterials and nanomedicine. UNM donated more than 4,500 square feet of lab space in the new Centennial Engineering Building for the project. Construction is scheduled to begin December 2010.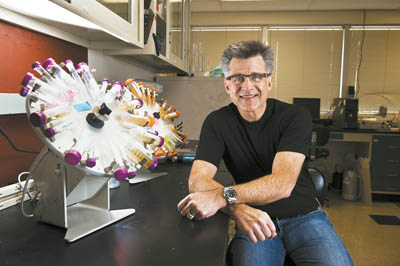 "Sandia is proud to be a part of this important undertaking," says Steve Rottler, Chief Technology Officer and VP of Science and Technology and Research Foundations Div. 1000. "Pairing Sandia's expertise in materials science with UNM Cancer Center researchers' knowledge of cancer biology, oncology, and clinical attributes provides an ideal setting in which to move forward in our nation's fight against cancer."
Second phase of alliance
The awards comprise the second phase of the NCI's Alliance for Nanotechnology in Cancer Program, which initiated an investment of more than $30 million per year for the next five years to establish Centers of Cancer Nanotechnology Excellence, Cancer Nanotechnology Platform Partnerships, training grants, and the Nanotechnology Characterization Laboratory. The alliance was founded in 2004 to leverage specific advantages of nanotechnology to improve cancer diagnosis, treatment, and prevention. Since then, the alliance has facilitated the discovery of many novel technologies, some of which are currently undergoing commercialization and clinical trials.
Jeff, who is coprincipal investigator on the grant with Dr. Cheryl Willman, a physician and director and CEO of the UNM Cancer Center, and a Distinguished Professor of Chemical and Nuclear Engineering at UNM, used a Sandia-funded Laboratory Directed Research and Development grant to conduct preliminary research in nanofabrication. The nanostructures he developed form the basis for delivering drugs directly to a wide variety of cancer targets, a method that increases the drug's effectiveness and reduces side effects.
"The technology I developed with now-Truman Fellow Carlee Ashley [8621] and UNM colleagues is really a generic platform to target any arbitrary cancer, so we've already written other proposals and are interacting with other cancer research centers throughout the US and Canada, to go after low-outcome cancers like breast, lung, pancreatic, and liver," Jeff says.
Jeff is also a team leader in the Cancer Nanotechnology Training Center, which is focused on training multidisciplinary scientists at both Sandia and UNM. One such student, Carlee, started working as an undergraduate student in Jeff's lab in Sandia's Advanced Materials Laboratory. Jeff then served as her graduate coadviser with David Peabody of UNM, and Carlee recently earned one of Sandia's prestigious Truman Fellowships.
"Carlee's experience was the model for the training grant. Her work was used as the basis for what we'd like to do in the future," Jeff says. "She went from biochemistry to training in my lab and then chemical engineering. That kind of interdisciplinary training is something that Sandia and UNM are actively encouraging."
The next five years of the NCI's Alliance program will focus on rapidly advancing new nanotechnology discoveries and speeding their transformation into cancer-relevant applications in clinical practice; aiding nanoparticle characterization and standardization of characterization methods to enable technology transfer from university laboratories to companies that bring these technologies to patients; and developing the next-generation of cancer researchers in the area of nanotechnology.