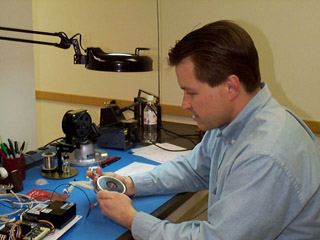 Jim Novak (5935) wants his experiences as a technology entrepreneur to benefit others considering taking the plunge. As a frequent speaker to groups of potential entrepreneurs, Jim talks about lessons learned during his foray into entrepreneurship from 1997 to 2001.
Jim Novak holds a SenSolve product called the ST-90 Surface Tracker in this photo from 1999.
Now the University of New Mexico's business school is honoring him for his contributions to entrepreneurship education; Jim will be inducted into the Anderson School of Management's Hall of Fame next month along with five other local individuals. Jim received his MBA from UNM in 1996.
"These candidates are selected for their professional success, contribution to community involvement, and an ongoing commitment to continuing education," Anderson Foundation board advancement committee chair Sheri Milone said in a press release.
The honorees will be recognized March 9 at the 21st Anniversary Hall of Fame reception and dinner at UNM.
An accidental entrepreneur
When Jim came to Sandia in 1988 the last thing he planned to do was launch a company. An electrical engineer, Jim had been recruited to develop sensing technology for robotic applications.
One of his projects involved fringing electric field technology as part of an automatic manufacturing system. He and Jamie Wiczer (ret.) had developed the technology, which proved useful in a variety of applications, most involving situations in which optical sensors could not be used.
In the early 1990s, a cooperative research and development agreement (CRADA) with Rocketdyne, manufacturer of the main engine for the space shuttle, led to the invention and patent of a fringing field-based sensor that enabled automated braze paste dispensing of the rocket thrust chamber assembly. Called the Multi-Axis Seam Tracking (MAST) sensor, it guided the robotic brazing compound equipment along the seams of the assembly in real-time. The procedure had previously been done manually.
By the time Rocketdyne requested additional sensors, the CRADA had expired and Sandia was unable to provide the sensors. Jim recognized this as a business opportunity, but "I realized my PhD left me clueless about business."
He decided to enroll in UNM's two-year Executive MBA program and the first business plan for what was to become his new company resulted. After forming SenSolve and licensing the sensor intellectual property from Sandia, Jim left the Labs in early 1997.
Bad timing
Initially housed in his garage, SenSolve's future seemed promising. The robotics industry was growing rapidly, the company was doing contracting work for several small business clients, had attracted $800,000 in venture capital through the New Mexico Equity Capital Symposium, and had six employees. In May 2000 SenSolve launched its first product.
However, by this time the dot-com collapse was well underway. Markets for manufacturing automation equipment dried up. SenSolve struggled but endured through the summer of 2001, but the decision was made to shut down the company in September 2001. Jim says he remembers working to sell off the company's assets while watching the events of 9/11 unfold on TV. In a painful "twisting of the knife," work with a major auto manufacturer involving welding aluminum in a new SUV model came through shortly after 9/11 but the equipment needed to support the work had already been liquidated.
He was rehired at Sandia in 2003.
"Launching a company when all the dot-coms were crashing was really bad timing," he says. But he realizes the outcome was a combination of many factors, some within and some outside of SenSolve's control.
His talks to potential entrepreneurs through Technology Ventures Corp.'s Center for the Commercialization and Entrepreneurial Training seminar series focus on major issues that must be managed properly to ensure success — and especially the need to recognize the existence of problems in the first place.
Jim says he's excited about applying lessons learned from his entrepreneurial stint here at Sandia. As manager of the Systems Technologies Department, part of his job involves generating "work for others" contracts from agencies other than DOE. "The business background helps me see where they're coming from," he said. "They want to see a business that's delivering a product and it's my job to assure them that Sandia can do that."