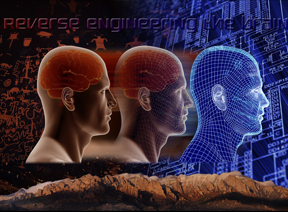 More than 200 scientists from throughout the country gathered at a resort just north of Albuquerque earlier this month and spent three days peering into the future of cognition research. What they heard was mind-boggling.
It's a future of new treatments for diseases such as Alzheimer's, Parkinson's, depression, and schizophrenia, and cures for people with traumatic brain injuries; the creation of new machines, like super-powerful computers that will enhance the way people perform and think; and dramatically improved robotics.
The scientists were attending the fourth Decade of the Mind symposium, sponsored by Sandia and cosponsors Krasnow Institute at George Mason University, Los Alamos National Laboratory, Santa Fe Institute, the University of New Mexico, MIND Research Network, and the Potomac Institute for Policy Studies. Subtitled "Reverse Engineering the Brain: Sowing the Seeds for Technology Innovation," the symposium was held at the Hyatt Regency Tamaya Resort and Spa on the Santa Ana Pueblo.
"Our goal was to obtain a glimpse of the technologies emerging in the areas of reverse engineering of the brain, computational neuroscience, cognition modeling, and massive neuronal simulations," says John Wagner (6341), manager of Sandia's cognition department and symposium chairman. "What we got was a world-class symposium that left everyone who attended awed about how far cognition research has come — and how far it needs to go."
Al Romig, Sandia executive VP and deputy Laboratories director for Integrated Technologies & Systems and interim chief operating officer, said at the symposium that the move to understanding the brain is not unlike what occurred 15 years ago when scientists were first interfacing biology and physics into the new science of biotechnology.
"It's a multiscale problem that is going to take a multidisciplinary effort to solve," he said. "A better understanding of the brain will have great benefit to the nation and humankind."
The research may result in reducing armed conflict, countering terrorism, understanding the mechanisms of dementia, and addressing the human elements of energy security and climate change problems. Some of the disciplines that will have to come together are computing and mathematics, neuroscience, engineering sciences, micro and nano technologies, psychology, social sciences, material sciences, physics, chemistry, biology, and physiology, Al said.
Jim Olds, director of the Krasnow Institute for Advanced Study and the Shelley Krasnow University Professor of Neuroscience at George Mason University in Virginia, organized previous Decade of the Mind symposiums. He noted that his belief in an advanced cognition future is rooted in the Human Genome Project, which showed that "large challenges can be cracked."
Olds told conference-goers that he and a team of researchers are working on establishing a cross-disciplinary and multiagency project to consolidate new science, inspire new technologies, and try a new assault on understanding how the mind emerges from the brain. The project would cost $4 billion over 10 years.
At the symposium Olds emphasized that for such a project to be successful, it has to be international in scope. And, in fact, European researchers have already joined forces with American scientists on the mind project. The next Decade of the Mind symposium will be in Berlin Sept. 10-12.
Other speakers at the New Mexico symposium talked about ethics and cognition research, what is consciousness, research on brains of fruit flies, and cognition modeling.