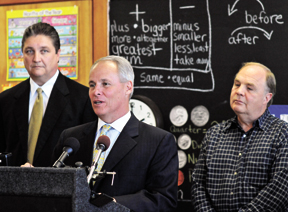 A Sandia report assessing ways to help protect Albuquerque children and teens from cyber predators was recently provided to the city as requested by Mayor Martin Chavez.
The assessment, "Keeping Albuquerque's Children Safe from Cyber Predators," was conducted by Sandia's Center for Cyber Defenders program.
Tim McDonald, manager of Information Assurance Systems Dept. 5637, says the CCD evaluated programs nationwide and provided recommendations for the City of Albuquerque based on established criteria.
"Any successful cyber defender program must be based on community, school, and parental involvement," says Tim. "It's important that parents are proactive in determining what their children are viewing, not only on their computers but also on their cell phones and other communication devices."
Existing programs in other major US cities were reviewed and a behavior-based cyber predator threat model was produced to help assess and determine which existing programs best address these problems.
Recommendations were given on informational website development, comprehensive interactive programs to inform children, and complementary parental information programs.
The primary findings in the assessment indicate that the most effective cyber predator awareness programs include an informational website containing links to other resources. The assessment found that California, North Carolina, Michigan, and Arizona are the highest-ranked states in the assessment, and should thus serve as good models. In addition, the report mentions that control and monitoring tools, informative handouts, and training or seminar sessions were the primary criteria differentiating high- and low-ranked programs.
Mayor Chavez thanked Sandia for preparing the report at a recent news conference.
"One of the most disturbing crimes against our youth is cyber stalking," Chavez said. "Recently, a USA Today story revealed that nationwide there are more than 600,000 unique computers trafficking child pornography over the Internet."
Chavez announced a partnership with the Albuquerque Police Department, Sandia, and Albuquerque Public Schools to combat cyber stalking. A town hall meeting is set for 11 a.m. Saturday, Nov. 15, at the Don Newton Community Center in Taylor Ranch. Topics for the meeting will include an in-depth discussion of cyber stalking, cyber stalking of children and young adults, how to report cyber crime, how to protect against cyber stalking, and what to do if you are a victim.
Sandia Labs Director Tom Hunter was instrumental in discussing the project with the mayor.
The report (SAND 2008-5561) was prepared by Felycia Aranda, Raquel Hernandez, Erin Duggan, and Andrea Walker.