"Our robust hydrogen program is a classic example of how Sandia has taken an expertise grown over the years for the nuclear weapons program and used that capability to serve the nation in the transportation arena. That new work has, in turn, further strengthened our expertise for all our mission areas, including nuclear weapons."
Spoken by Rion Causey (8758) near the close of the two-day gathering, those words succinctly captured the essence of the Hydrogen Energy Research Workshop at Sandia/California May 8-9.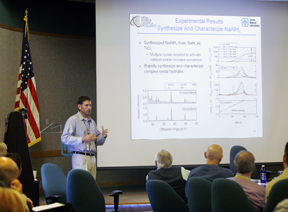 Some 75 researchers from Sandia/New Mexico and Sandia/California came together for the workshop, which included a series of panel discussions and presentations on topics such as hydrogen storage, polymer electrolyte membrane (or PEM) fuel cells, safety, production, nuclear hydrogen, and utilization in combustion engines.
In his opening overview, Sandia hydrogen program manager Jay Keller (8367) paid tribute to the researchers over the years who helped establish the Labs' expertise in hydrogen through its defense and nuclear programs.
Jay also made clear that the Labs' current, transportation-focused hydrogen portfolio is diverse and growing. The program will bring in roughly $20 million in FY08, more than half of which comes from DOE's Office of Energy Efficiency and Renewable Energy (EERE). In 1994, Sandia's hydrogen work was funded by EERE to the tune of just $200,000.
DOE's Offices of Science, Fossil Energy, and Nuclear Energy currently fund about $4.5 million of work, while industry-funded projects (mostly led by US automotive companies, particularly General Motors) total around $2.5 million.
Regarding the hydrogen program's diversity of work, Jay cites the breadth of Sandia's engagement and partnerships with the external hydrogen community, which includes international collaborators, industry partners, and various funding agencies and government offices. Sandia's work, he says, supports DOE's goal of promoting global collaboration and expansion of hydrogen energy R&D worldwide.
EERE-funded projects at Sandia include those in hydrogen embrittlement, storage, production, systems modeling, and safety, codes, and standards. Programs in hydrogen production via coal gasification and nuclear hydrogen production are housed in non-EERE programs, while industry partners such as General Motors are actively partnering with Sandia on hydrogen storage projects and other programs.
Though Sandia's Laboratories Directed Research and Development investments in hydrogen have decreased in recent years, Jay says that's perfectly understandable since it illustrates how earlier investments by the Labs' Energy, Resources, and Nonproliferation (ERN) Strategic Management Unit (SMU) paid off and led to funded work.
Avoiding stovepipes
John Kelly, senior manager of Advanced Nuclear Energy Programs (6770), says hydrogen is an area of interest for himself and managers such as Don Hardesty (8360) and Art Pontau (8750).
"It's good to expose both sites to what's going on and come up with new ideas and better ways to do things," says John. "That's what happens when you get the right people together. Just like at DOE, our programs can get stovepiped. This is an opportunity to break down those barriers and get the big picture. By sharing what we are doing, we also learn about activities at other labs and by other partners."
At the workshop, "there was some real value in learning the overall landscape of Sandia activities in hydrogen research and gaining an understanding of where the opportunities might lie," says Jerry Simmons (1120). As manager of the Semiconductor and Optical Sciences group, much of his work is funded by DOE's Office of Science.
Jerry says that, like the hydrogen program, he shares the common goal of trying to bring the Office of Science together with EERE.
"EERE tends to be focused on work that is short-term, more milestone-focused," he says. "The Office of Science looks at a much longer range, 10 years out or more. We need to focus on both."
"This workshop has given us the impetus to consider application space we might not have thought of before," says Tony McDaniel (8367). "I didn't know anything about the nuclear work on hydrogen. It's really a fascinating challenge, especially in terms of materials."
Sandia, industry forge ahead
Though Sandia's hydrogen program remains healthy and should get healthier, Jay says its immediate future will depend somewhat on the direction the next administration and Congress take on climate change policy.
"I'm hopeful and optimistic that government leaders will continue to focus on the ways we power our society, and will work with Sandia and others on making hydrogen part of the answer," he says.
Industry support appears to be strong. At a keynote address at the National Hydrogen Association's annual conference in April, GM executive Larry Burns — a previous visitor to Sandia — called on the energy industry and governments to step up and help automakers make volume production of fuel cell-electric vehicles a reality by opening more hydrogen fueling stations.
"The automobile industry has reached a critical juncture in our journey to realize the full potential of hydrogen fuel cell-electric vehicles," said Burns. "While we have made impressive progress, we have now reached a point where the energy industry and governments must pick up their pace so we can continue to advance in a timely manner."
Federal spending on hydrogen research has grown steadily over the past five years, and Sandia's program has grown in lockstep with the government. Currently, Sandia continues to actively respond to federal calls, both lab-only requests-for-proposals as well as opportunities that involve industry partnerships.
Regardless of the political winds, Sandia's hydrogen activities are aligned perfectly with the Labs' future, says Don, particularly the transportation and energy "big idea" that is emerging out of the ERN SMU, (Lab News, April 11, 2008). Given Sandia's existing partnerships in industry, academia, and government, hydrogen could be a key piece of a national energy initiative, with the Labs playing an important role.