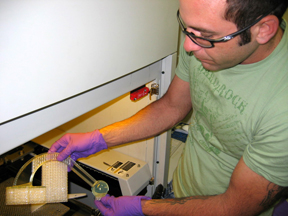 Sandia assisted 293 small businesses in 2006 with projects ranging from a kids' car organizer to a radio frequency signal that can alert 85-90 percent of drivers that a first responder is approaching.
This was Sandia's sixth year of helping small businesses through the New Mexico Small Business Assistance Program, thanks to a tax credit passed by the New Mexico Legislature.
The program allows Sandia to apply a portion of the gross receipts taxes it pays to the state each year to provide technical advice and assistance to New Mexico small businesses. During 2006, Sandia received nearly $1.8 million in tax credits.
Due to successful legislation in 2007 the program has made some significant changes, says Jennifer Kamm Sinsabaugh (9118). Los Alamos National Laboratory now has the same program and the maximum amount of tax credit was increased from $1.8 million to $2.4 million for each participating laboratory.
There are few requirements for small-business participation — mainly that assisted companies must be for-profit New Mexico small businesses, and that the help is otherwise not available for a reasonable cost through private sources.
Car organizer for kids
Utilizing Sandia's rapid prototyping technology, Bart Chavez (2455) built the first prototype of a new car organizer for kids.
The Kids Console, by Baby Azul, is the only car organizer that is reachable and usable by children strapped in child safety seats. The organizer can be placed on a bench seat or between bucket seats and allows children access to their cups, books, or toys. An extra storage compartment in the console can be used for items that parents want to keep out of reach of their children. The console is held securely in place with the seat belt on a bench seat and with a strap system when placed between bucket seats.
The Sandia assistance involved computer-aided design model analysis, stereolithography (STL) file generation, STL file verification, rapid prototyping (RP), and post-processing of the Kids Console RP model. The model allowed for the product to be shown at trade shows and to generate interest.
The New Mexico Manufacturing Extension Partnership assisted Baby Azul by developing a manufacturing feasibility study.
When company representatives attended their first trade show, they received positive feedback that encouraged them to press forward and have the Kids Console product manufactured. Without the prototype, Baby Azul would have not gone to the trade show and not pursued the idea any further, says Dawn Winters-Rizika, owner of Baby Azul.
"It is always an honor to work with the innovative and remarkable individuals in our community," says Bart, who has helped with about 10 other small business projects over the years.
"I support the [New Mexico Small Business Assistance] program 100 percent. It's great to help people with their ideas."
Winters-Rizika says the Sandia program played an essential part in helping her bring the Kids Console to market.
"We will be receiving our first shipment at the end of June and this wouldn't be happening if I hadn't received my first prototype from
Sandia Labs," she says. "Sandia has helped make my idea come to life."
Emergency vehicle approaching
Force 4 Enterprises in Albuquerque has created an alert system that first responders — police, firefighters, ambulance companies — can use to alert motorists of their approach when navigating through traffic during an emergency.
Michael Frasier, co-owner of Force 4, says the system will alert motorists by sending a message or tone, which can be heard on the existing sound system of any motor vehicle if the operator is listening to any publicly broadcast radio station. This amounts to nearly 90 percent of vehicles on the road, according to Arbitron Radio Ratings and Media Research, he says.
"No one has managed to bring this technology forward," Frasier says. "We're using common technology in a way that has never been used before."
The Eagle 1000 RF Siren can be detected a quarter of a mile from the approaching first responder and the area of complete capture is nearly one-tenth of a mile, he said.
First responders have traditionally relied on conventional audio sirens to warn motorists that they are approaching. Over the years, their effectiveness has been reduced by better soundproofing in today's automobiles, Frasier says. Automobile accidents are the number one hazard facing first responders and accidents have been the leading cause of police officer deaths for the last eight years, says Frasier, citing the National Law Enforcement Officers Memorial Fund.
"Our mission is to improve the safety of the general public and for first responders when and where they interact," he says.
Sandia retiree Richard Sparks assisted Force 4 with engineering and research guidance on the Eagle 1000 RF Siren. Richard called on 38 years of experience in assisting with radar and RF transmission issues.
Richard also provided Force 4 a number of contacts from the Center for Commercialization and Entrepreneurial Training and the National Institute of Justice.
"The idea that Michael Frasier is pursuing could save many lives that are lost across the country when people are unaware of emergency vehicles approaching and fail to yield," Richard says. Force 4 is in a circuit design stage moving into a test phase within the next few months.