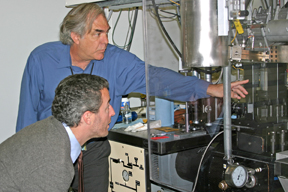 California is leading the nation when it comes to energy and environmental policy. Last year Gov. Schwarzenegger put California on the world stage when he committed the state to reducing global warming emissions back to 1990 levels by 2020.
In an effort to stay abreast of developments in the rapidly advancing field of clean energy and related government policy, Sandia's ERN/SMU CA Energy Liaison Office and its Division 8000 Business Development Office hosted a visit by Dan Adler of the California Clean Energy Fund (CalCEF). Adler is the Director of Technology and Policy Development at CalCEF.
According to Carrie Burchard (8529), Sandia's work in "Cleantech" is generally much closer to commercialization than some of the other areas of research at the lab. Engaging with CalCEF enables the Business Development Office to look at alternative funding possibilities and aligning research with what is happening in the state.
"We often look 10-20 years out, but in this arena we need to be looking ahead five years," she says. "Biofuel, including cellulosic ethanol and biodiesel from algae, is just one area where we are reapplying the capabilities we developed in our homeland security work to energy issues."
CalCEF is a $30 million nonprofit investment fund created to spur investment in California's clean energy economy. The fund was formed in 2004 from the PG&E bankruptcy settlement negotiated by the California Public Utilities Commission (CPUC).
This is where the interests of CalCEF and Sandia intersect. The companies funded by CalCEF could be potential business partners with Sandia. Burchard says it is also an opportunity for Sandia to strengthen its relationships with California government.
Adler thinks there are great opportunities for CalCEF and Sandia to develop a common platform for technology commercialization, a regular forum for interaction with the venture capital community, and a means of mutually reinforcing state policy efforts via insights into emerging energy research.
The Global Warming Solutions Act that took effect on January 1, 2007 will have a big impact on any company doing business in California. These companies will be actively looking for solutions to reduce their greenhouse gas footprint.
Ron Stoltz (8302), head of the California Energy Liaison Office, envisions the relationship between Sandia and CalCEF as a two-way information exchange. Sandia can advise CalCEF on promising technologies, while CalCEF can provide insight into trends in venture capital investing in clean energy. Ron and Adler already have future meetings planned to further this partnership.
"The overall intent is for us both to be ahead of the crowd in the future of clean technology innovation and investing," Ron says. "I don't expect CalCEF to directly fund Sandia, but they can make us aware of promising companies through which we can commercialize our inventions."
Adler noted that "I'm impressed by the breadth of clean energy work undertaken by scientists at Sandia, and by the entrepreneurial spirit and outward-orientation of the members of the management team I had a chance to meet."
CalCEF recently gave a $1 million grant towards the establishment of an Energy Efficiency Center (EEC) at the University of California, Davis. The goal of the EEC is to accelerate energy efficiency innovation and to stimulate the transfer of the technology into the marketplace.
CalCEF operates independently of both PG&E and the state of California. The fund is a limited partner in three venture capital funds.
During Adler's visit, Ron led a spirited panel discussion in which he played the role of Vinod Khosla, a Silicon Valley venture capital investor. Khosla, who co-founded Sun Microsystems, recently has been pursuing investment in bio refineries, synthetic biology, and fuel and solar cells.
On the panel were Blake Simmons (8755), representing energy systems; Lennie Klebanoff ( 8755), representing hydrogen; Art Pontau (8750), representing materials and energy sciences; Margie Tatro (6200), representing fuel, water, and alternative energy; and Masood Hadi (8321), representing biosystems research.
The panel debated and discussed concentrated solar versus photovoltaics, the merits of electricity peak shaving and load shifting, hydrogen, nuclear power, and how the rising popularity of plug-in hybrid vehicles could impact the energy market.
Lennie, Director of the DOE Metal Hydrides Center of Excellence, was quick to defend the merits of hydrogen after Vinod (aka Ron) suggested that "hydrogen makes no sense to me."
"You can't sequester the mobile source of carbon emissions—exhaust from your car's tailpipe," Lennie says. "That's why it is essential we look at hydrogen. Hydrogen is a storage medium, not a fuel."
The purpose of the discussion was to look at alternative points of view about energy and to challenge assumptions. While the panel participants all work directly in clean energy technology, Ron says the focus was "less on what we are doing and more on what we are thinking."
After the panel discussion, Adler toured the hydrogen storage and hydrogen engines combustion labs and learned about the applications of fiber lasers to energy problems from Dahv Kliner.
"Sandia's expertise in combustion research should be of great use in the development of next-generation biofuels, which is a major emphasis in the policy and financial arenas," Adler says.
Adler's visit, and especially the panel, accomplished another goal of Burchard's.
"We need to spend more time talking about difficult, hot issues," she says. "It gets the intellectual juice flowing."