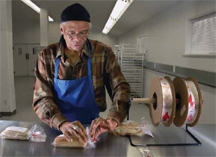 Your next box lunch may come with more than that tuna fish sandwich. That sandwich may come with a ripcord to open it, and a patent behind it.
Diana's Homegrown, a small business based north of Socorro in Lemitar, N.M., has patented a pull-out pouch system that is designed to transform food from an easily spoiled, soggy mess into a fresh and long-lasting meal. The intent of the system is to extend the lifespan of an unrefrigerated sandwich by as much as a month, even longer if it is stored in a refrigerator.
Through the New Mexico Small Business Assistance Program (NMSBA), Sandia provided technical and business assistance to 283 New Mexico small businesses in 2005, including Diana's Homegrown. Funding for the program comes from a tax credit passed by the New Mexico legislature.
This was Sandia's fifth year of helping small businesses through the NMSBA. The program allows Sandia to use a portion of its gross receipts taxes paid each year to provide technical advice and assistance to New Mexico small businesses.
In 2005, Sandia received $1.8 million in tax credits, which were put to work for small businesses such as Diana's Homegrown. Eight success stories from the 2005 NMSBA program year, including Diana's, were highlighted at a recent event at the Albuquerque International Balloon Museum.
Reggie Alsbrook, the founder of Diana's Homegrown, entered the food business to fulfill a promise to his father, William Noel Alsbrook, who spent 10 years developing and patenting a packaging system that extends the fresh life of sandwiches. He passed away before the patent was granted. Reggie decided to develop his father's packaging system and move his father's dream forward.
The packaging system is essentially a plastic-wrapped bread roll that has a hole in the middle. In that hole is a sealed pouch of sandwich filling such as green chile chicken salad, tuna salad, or peanut butter and jelly. To get the filling into the sandwich, the hungry person pulls a tab at the end of the sandwich and the filling spreads itself evenly inside the sandwich. Because the bread and filling are kept separate until the last minute, the sandwich can remain fresh and unsoggy far longer than most pre-prepared sandwiches, all without preservatives.
Sandia's assistance allowed Diana's Homegrown to think differently about the way they delivered sandwiches, says
Jennifer Sinsabaugh of Supply Chain Management Center (10200).
"When Diana's came to us," says Jennifer. "they thought they had a packaging problem. What they really had was a polymer problem."
The technical assistance Sandia provided allowed Diana's to ramp up their production, secure some key contracts, and move their business into competition with much larger businesses.
Diana's is now a licensed caterer to Sandia and also has contracts to provide emergency provisions to programs for the elderly at many New Mexico pueblos.
Currently Diana's packaging system is used to deliver sandwiches and burritos, but Diana's plans to use the system to hermetically seal many different types of food to help extend shelf lives even further. The company thinks its packaging system is perfect for providing emergency fresh food during disasters and as part of international emergency food inititives.
Diana's is investigating providing food to secure facilities by developing a "secure food environment," in areas where the food supply is in danger of tampering. "Everybody, even people in classified environments, has to eat," says Reggie.