In the future, the nation will be better prepared for biological pathogen terrorist attacks against airports and other transportation facilities.
This improved readiness is thanks to a project funded by the Department of Homeland Security (DHS) and led jointly by Sandia and Lawrence Livermore national labs.
Late last month, a two-day demonstration event was held at the San Francisco International Airport's Terminal 2 for 120 officials from around the nation to lay out the response and restoration protocols to be undertaken if a biological attack occurred.
The demonstration culminated the three-year interagency collaborative effort, focusing on critical transportation facilities.
Representatives and key collaborators came from the US Environmental Protection Agency, the Centers for Disease Prevention and Control, the San Francisco Department of Public Health, the Defense Department, the Defense Advanced Research Projects Agency, BART (Bay Area Rapid Transit), the California Environmental Protection Agency, and key personnel from other airports (O'Hare International, Dallas-Fort Worth, and Los Angeles International).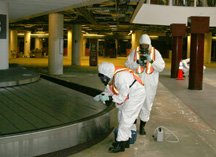 Under the Bio Restoration Demonstration Project, researchers from Lawrence Livermore and Sandia developed restoration plans and demonstrated how airports hit by biological terrorist attacks such as anthrax could be quickly decontaminated and reopened. As part of the demonstration, personnel donned haz-mat gear and analyzed areas of the terminal based on a mock scenario supplied by the FBI.
"A deliberate bioattack on an airport could have far-reaching impacts, not only in terms of public health but also in economics," says LLNL's Ellen Raber, a principal investigator on the project. "This project is all about being better prepared to respond quickly and effectively while protecting human health and the environment."
San Francisco International Airport was a partner in the three-year study. The national lab researchers used SFO's facilities to evaluate what would need to be done to restore an airport and how to minimize impacts on airport operations.
Raber's co-principal investigator, Sandia senior scientist Mark Tucker, says many of the ideas developed through the project could apply to the nation's other airports and other transportation systems, such as subways.
"One of the aims of the effort has been to use SFO as a case study to transfer lessons learned, templates, and technologies to other airports," Mark says.
"This demonstration project successfully integrated technologies and protocols, addressing many of the requirements that the Department of Homeland Security had identified as critical needs for airport restoration in the unfortunate event of a biological attack," says Elizabeth George, DHS deputy director for biological countermeasures.
Included in the airport restoration templates are protocols for characterizing an area through sampling and analysis after an attack; decontamination options; approaches for allowing public re-use of facilities; and the possible application of longer-term monitoring.
As a part of the approximately $10 million DHS project, researchers at Sandia and LLNL upgraded technologies to help shorten the cleanup times after a biological attack. Among the advances demonstrated at the airport were:
• A Geographic Information System–based indoor sample tracking system called the Building Restoration Operations Optimization Model (BROOM), developed by a team of Sandia scientists. The system permits public health authorities to collect samples in a more efficient manner, manage the large amount of data associated with samples collected from a contaminated facility, and visually display the extent of any biological contamination. Sandia's BROOM decision support tool, says Mark, is one of three technologies recently selected for the DHS Science and Technology directorate commercialization pilot program.
• A rapid viability test procedure, developed by LLNL researchers, to determine within hours, rather than days, whether anthrax spores are dead or alive — a capability that will greatly assist in the decontamination process by shortening cleanup timelines.
• Sampling methodologies developed by Sandia and LLNL to better understand the percentage of anthrax spores collected in samples (so public health authorities will have more knowledge about the extent of a contaminated area). This work also focused on how to sample more effectively using more statistical-based approaches for evaluating cleanups. — For information, contact