A 10-year plan completed; some said it couldn't be done
It began with discussions in 1991 and a formalized plan in 1993 and took most of a decade to come to fruition. It involved a painful closing of a plant in Florida, moves to Albuquerque, and creation of a production facility at Sandia. It took the hard work and dedication of teams totaling550 Sandia employees, a significant fraction of the Labs' workforce. But it was done, and now everyone could celebrate. And that's what they did in a pre-Christmas event at the Steve Schiff Auditorium.The qualification of the MC4380 neutron generator had been completed for the W76 weapon system and a major corporate and DOE milestone met. And it was all accomplished without under-ground nuclear testing. "I want to thank you for your extraordinary teamwork," Weapon Systems VP John Stichman (2000) told employees in a celebration event Dec.19. "This has been an activity that encompassed so much of the Laboratories, over 500 people involving many disciplines — systems engineering, software engineering, reactor operations,computational modeling and simulation, our science and technology base. . . .""This has been an important project for Sandia.. . .We showed for the first time that we can design and qualify a component to survive strategic radiation environments without underground testing.We also established a new Neutron Generator Production Facility and showed we can reliably produce neutron generators for the stockpile.""I know you worked long, hard hours to make new breakthroughs in engineering, science, and production; to overcome difficult problems; and to put an enduring infrastructure into place for future neutron generator projects."It all produced a great result. The great result is that we met a key milestone, something that was necessary for maintenance of nuclear deterrence, and that milestone was key enough that it also represented a corporate milestone as well as a Department of Energy milestone."Tremendous challenges had to be overcome.Some people said it couldn't be done. The plan, in the apt words of Lenny Martinez, VP for Defense Programs, Products, and Services Div. 14000, "had a lot of unknown unknowns."The plan formalized in 1993 set a date for qualification of neutron generators from production of October 2000. By August 1999, the production capability had been established, two months ahead of that deadline (Lab News, Aug. 13, 1999).
Then on Sept. 27, 2000, the teams ran the final tests that enabled Sandia to say the neutron generator was qualified for the W76 weapon system. On Oct. 2 John wrote a letter to DOE announcing its qualification.As Lenny noted, "the plan almost spanned an entire decade." But the deadlines, set so long ago and with so many challenges to be overcome and so many details to be dealt with, were met. "I want to personally thank all of you for all your hard work, talent, persistence, and success in getting this project done," said Pat Sena, Manager of Navy and UK Projects Dept. 2104 and moderator of the celebration.The projects included several firsts, he noted.It was the first design of this hollow-beam, focused ion beam tube, the MC4380 neutron generator. A production capability was brought up at Sandia, and also at Los Alamos (which sent a representative to the celebration). And also a new production process for part of the neutron generator mounting hardware was brought up at the Kansas City plant."Also," noted Pat, "we qualified the neutron generator for hostile radiation environments with-out underground testing.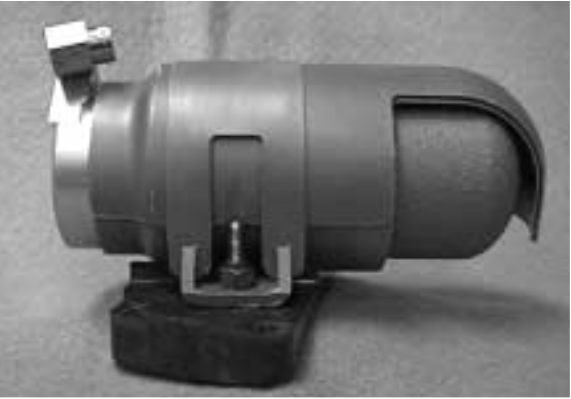 That was another first."Five distinct teams made it happen: a design team for the neutron generator itself, a production team in charge of producing the neutron genera-tor and all the components that bring it together,a radiation-environments-qualification team, a peer review team, and a team to integrate the neutron generator into the W76. Organizations involved across the Labs included 2100, 1800,2500, 3500, 4600, 6200, 6400, 7100, 8400, 8500,8900, 9100, 9200, 9500, 9800, 10200, 12300,14100, 14400, and 15300. John Stichman called them all "pathfinders."He said what they did represents a new way to do business for Sandia and a path for how the Labs will work in the future."It was a very complex job," said a relaxed-looking Gary Beeler, a former VP of both divisions14000 and 2000. Gary retired 10 months earlier but returned to take part in the celebration. "This was a major involvement of mine for the last 10years," he said. It involved some difficult times,starting with shutting down the Pinellas plant in Florida, where neutron generators had long been made, and transferring those employees to Sandia."That was a hard time," he said, and one of his colleagues told him the task couldn't be done. But it was done."It was a great effort," said Gary. "I want to thank you for enabling this great accomplishment to take place."Said Barry Hannah, the W76 Project Officers Group Chairman and Navy customer from the Strategic Systems Programs Office, about the accomplishment: "The Navy continues to recognize that Sandia National Laboratories is an essential and integral part of the Navy Fleet Ballistic Missile team."