Technology Development Award: Sandia's GazeAppraise team received a Notable Technology Development award from the Federal Laboratory Consortium (FLC) on Technology Transfer, Mid-Continent Region. The award for GazeAppraise Eye Movement Analysis Software was presented at the annual FLC regional meeting in Albuquerque, September 13-15, 2016. The Mid-Continent region includes 15 states. This year's meeting was attended by representatives from DOE, DoD and other federal laboratories. The GazeAppraise team is: Mike Haass (1461); Laura McNamara (5346); Danny Rintoul (1462), Andy Wilson (1461) and Laura Matzen (1463).
New Eye Movement Analysis Technology: GazeAppraise software offers a new way to understand human performance as it relates to analysis of dynamic soft-copy images on computer screens. The visual cognition research community lacks software that models how our eyes dynamically recalibrate their trajectory when tracking a moving target across a scene and GazeAppraise is strong at characterizing those "smooth pursuit" eye movements. It has opened up entirely new ways of evaluating search strategies in a wide range of problem areas.
Insights discovered through the use of GazeAppraise will be incorporated into next-generation analysis hardware and software systems. These systems will be used to improve human performance in dynamic image analysis applied to medical diagnostics, airport security, nuclear nonproliferation, and any area where people are working with soft-copy images.
Partnerships Formed: The partnerships the Sandia team has developed create interaction between behavioral scientists, computer scientists, and specialists in other fields, enriching eye tracking research and applications.
Partnerships with two academic partners, Georgia Tech (GT) and the University of Illinois at Urbana-Champaign (UIUC), help Sandia to fine tune the quality of the technology and algorithms in GazeAppraise. The work Sandia and the university partners are doing will be an important part of eye movement research. GT is helping with the value framework that can be used to evaluate information displays. UIUC, with an interdisciplinary team, is helping with image-driven visual saliency and goal-directed visual processing.
A cooperative research and development agreement (CRADA) with EyeTracking, Inc., a company specializing in this field, gives the Sandia team access to a wide array of eye tracking systems and a pathway to commercial applications for this planned technology transfer.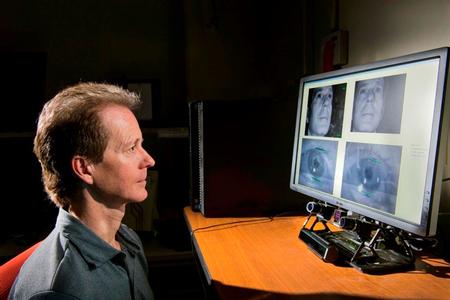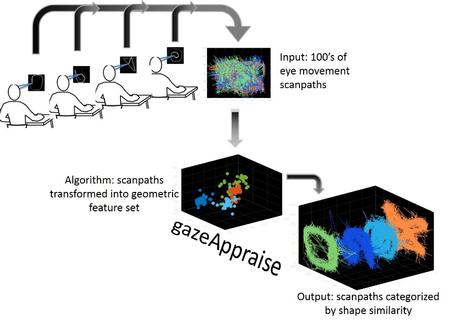 Contact
September 1, 2016
News story url: https://www.sandia.gov/ccr/news/gazeappraise-team-receives-notable-technology-development-award/