Principal Member of Technical Staff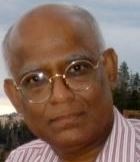 Achyuthan has engaged in research and development of chemical and biological sensors using volatile organic compounds as markers of chemical vapors, biological organisms, and disease diagnostics. His prior work included high-throughput screening (HTS) of biosensors and lignin research for biofuels. He has served on the Editorial Board of Langmuir, an ACS journal. Previously, Achyuthan was Section Head and later Director of R&D and QC for several companies, where he supervised the launch of in vitro diagnostic clinical devices and HTS research products. He has supported FDA 510(k) filings and successful CLIA waiver from FDA for influenza diagnostics.
Achyuthan has an interests in aging and lifetime (A&L) analysis of non-nuclear materials (NNM) and componenets including electrical cables and connectors, organic materials, radiation-hardened (rad-hard) microelectronics.
Education
Bachelor's Degree: Chemistry, Zoology & Genetics, Osmania University (1970-1977)
Master's Degree: Biochemistry, Osmania University (1974-1976)
Doctoral Degree: Biochemistry, Osmania University (1976-1982)
Postdoctoral Fellowships:
University of Maryland, Baltimore, Maryland (1982-1984)
Duke University, Durham, North Carolina (1984-1986)
Selected Publications
92 publications over career including "cover articles," "hot articles," research papers, review articles, editorials, and book chapters. Achyuthan has published 35 research papers during his tenure at Sandia. Additionally, he has published 7 book chapter over his career, one of which was during his Sandia tenure. His most recent articles include:
Paxton, Walter & T. McAninch, Patrick & E Achyuthan, Komandoor & Hae Ra Shin, Sun & L. Monteith, Haley. (2017). Monitoring and modulating ion traffic in hybrid lipid/polymer vesicles. Colloids and Surfaces B: Biointerfaces. 159. 10.1016/j.colsurfb.2017.07.091.
E Achyuthan, Komandoor & Harper, Jason & Manginell, Ronald & W Moorman, Matthew. (2017). Volatile Metabolites Emission by In Vivo Microalgae—An Overlooked Opportunity?. Metabolites. 7. 39. 10.3390/metabo7030039.
Branch, Darren & Cooley Vreeland, Erika & L. McClain, Jamie & K. Murton, Jaclyn & D. James, Conrad & E. Achyuthan, Komandoor. (2017). Rapid Nucleic Acid Extraction and Purification Using a Miniature Ultrasonic Technique. Micromachines. 8. 228. 10.3390/mi8070228.
B Pfeifer, Kent & E Achyuthan, Komandoor & Allen, Matthew & L B Denton, Michele & Siegal, Michael & Manginell, Ronald. (2017). Microfabrication of a gadolinium-derived solid-state sensor for thermal neutrons. Journal of radiation research. 58. 1-10. 10.1093/jrr/rrx010.
Selected Patents
'Apparatus for performing diagnostic testing

' Mauchan, Donald E., Achyuthan, Komandoor E., Appleman, James R.; US Patent no. 6,641,782 (November 4, 2003).
'Chemiluminescent influenza diagnositc kit' Shimasaki, Craig D., Achyuthan, Komandoor E., Edwards, Brooks; US Patent no. 7,081,352 (July 25, 2006).
Awards, Honors, and Memberships
Editorial Board Member, Langmuir (ACS) (2009 – 2012)
SPOT, ERA, Certificate of Excellence, LDRD Award for Excellence
DOE "The Secretary's Appreciation Award" (2017)
Relevant Prior Positions
Assistant Research Professor, Duke University (1986–1994)
Senior Research Scientist, Oklahoma Medical Research Foundation (1994–1998)
Senior Research Scientist, ZymeTx, Inc., Oklahoma City, Oklahoma (1995–2002, concurrent)
Section Head, ZymeTx, Inc., Oklahoma City, Oklahoma (1996–2002, concurrent)
Team Leader, QTL Biosystems, Santa Fe, Oklahoma (2002–2003)
Director, R & D and QC, QTL Biosystems, Santa Fe, Oklahoma (2003–2005)
Consultant, Theranostech, Inc., Albuquerque, New Mexico (2005)
Senior Scientist, Joint BioEnergy Institute, Emeryville, California (2007–2010)
Principal Member of Technical Staff, Sandia National Laboratories, Albuquerque, New Mexico, (2005–Present)