Principal Member of Technical Staff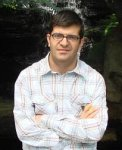 Principal Member of Technical Staff
(925) 294-2585
Sandia National Laboratories, California
P.O. Box 969
Livermore, CA 94551-0969

My research focuses in thermal and fluid sciences and in uncertainty quantification (UQ) in multiphyics and multiscale simulations. I am interested in the high performance computing aspect of computational engineering and UQ along with their applicability to the emerging exascale architectures.
I am a biomechanical engineer by training. I received my Ph.D. in Mechanical Engineering in 2008 at the University of Maryland, Baltimore county. My Ph.D. research focused in multiscale transport phenomena in biological tissues with a focus on magnetic nanoparticle hyperthermia for cancer treatment.
Research Interests
Fault-tolerant algorithm development for large-scale PDE solvers
Data compression using compressive sensing and wavelets.
Multi-scale transport phenomena and reactive flows in porous media e.g. metal hydrides.
I am currently the PI of a project funded by Sandia's Laboratory Directed R & D program.
I publish papers, technical reports as well as release open-source software. You can access them on the left-hand side of this page.
Publications
Showing Results. Show More Publications